Debates between TV hosts from the US and China went viral in China, prompting soul searching over the source of the mistrust between the two countries
S
ince trade negotiations between the US and China collapsed in May, leading to a further escalation of tit-for-tat tariffs, nationalist rhetoric has been heating up on both sides. Then a TV debate, which took place on the night of May 30, the morning of June 1 Beijing time, opened a frontline between the world's two largest economies. 
The debate was triggered when Liu Xin, a TV anchor from China Global Television Network (CGTN), the recently rebranded foreign-language arm of China's State-run network, China Central Television, refuted claims by Fox News Business host Trish Regan on May 14 on her show, Trish Regan Primetime, that China is stealing around US$600 billion in intellectual property (IP) from the US annually and that it is imperative for US President Donald Trump to fight the "economic war."  
Liu described Regan's comments as "economic warmongering" and "all emotion and accusation supported with little substance," and advised Regan to "hire a better research team." This prompted Regan to respond by challenging Liu to appear on her show to debate the issue. Liu accepted the challenge on the condition that there would be no mudslinging.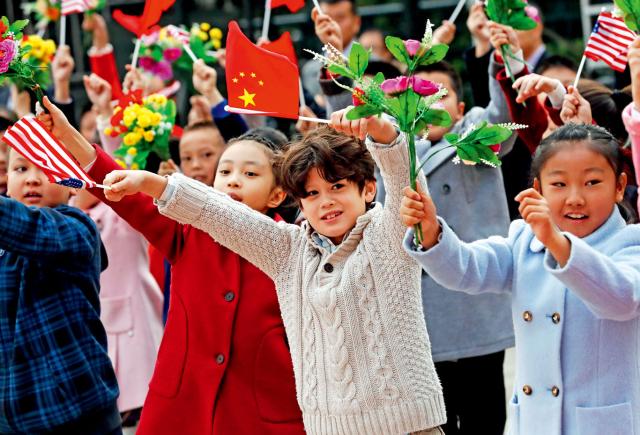 Children wave flags in Tiananmen Square in Beijing as they welcome US President Donald Trump and his wife Melania, who made a state visit to China on November 9, 2017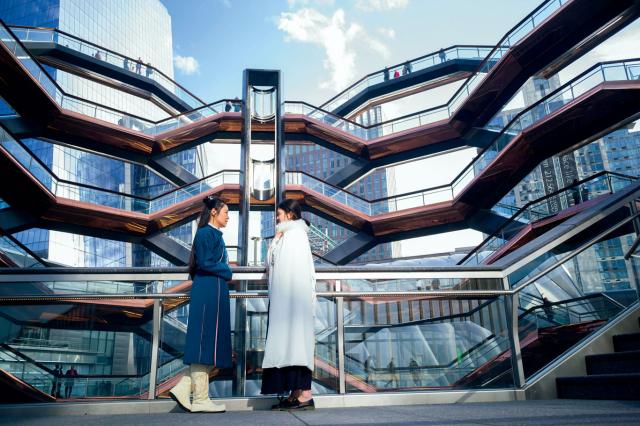 Two Chinese students wearing traditional Chinese clothes pose for photos at a newly opened interactive installation called Vessel, designed by Thomas Heatherwick, in the Hudson Yards development in New York City, March 15, 2019
The Debate
Pitched as the first ever appearance of a Chinese TV host on a mainstream American TV show, the debate drew phenomenal attention in China. But for those who expected an ultimate showdown, the debate fell rather flat. Both Liu and Regan appeared to have scaled down their assertiveness. In essence, the debate was more like an interview, with Regan asking Liu questions about China. 
Their exchanges started with Regan introducing Liu "as a part of the Chinese Communist Party," a label that Liu immediately rejected, emphasizing that she is not a member of the Communist Party of China (CPC), nor does she speak for it.  
Regan then challenged Liu with a rolling on-screen list of known examples of IP infringements conducted by Chinese companies. While admitting that these cases do exist, Liu said that similar cases happened in many parts of the world, including in the US. "There are companies in the US who sue each other all the time over infringement on IP rights, and you can't say simply because these cases are happening that America is stealing or China is stealing or the Chinese people are stealing," she said. 
Regan then asked Liu whether she is OK if Huawei was asked to share its own technological advances with its US counterparts if it is allowed to do business in the US. Liu replied that in the spirit of cooperation, mutual learning and legality, there is no problem if the US pays for the use of IP. "Why not?" asked Liu. 
Regan then challenged Liu regarding China's status as a developing country. First congratulating China on becoming the world's second-largest economy, Regan asked why China should continue to be considered a developing country. Liu responded that it is a complex issue as China's per capita GDP is still a fraction of that of the US.  
According to a recent International Monetary Fund dataset for the World Economic Outlook, China's current per capita GDP is US$10,150 and the US's is US$67,770. 
Regan also raised questions about the tariff levels of the two countries. Pointing out that tariffs on American products in China were 9.9 percent in 2016, three times that charged on Chinese products in the US, Regan questioned why both countries had not scrapped the tariffs altogether. Replying that it was a "wonderful idea," Liu said that any change to existing rules will concern other countries and should be done through multilateral platforms and mutual consensus.  
Regan's final question was on what she called the "State capitalism" system of China, to which Liu said it is a market system with "Chinese characteristics," with the State playing "an important and increasingly small role." Liu then stressed that 80 percent of employees, 80 percent of exports and 65 percent of technological innovations came from the private sector.  
When the 15-minute discussion came to an end, the two hosts appeared to adopt a much more conciliatory tone, with Regan apparently conceding from her previous stance, saying that "No one wants a trade war, but we have to think about the right next step." 
'Not about Winning'
The debate was an immediate hit in China, leading to a heated discussion among Chinese netizens. But while many praised Liu for her performance and her courage to speak up for China in a second language, others were less impressed over her apparent more measured tone, with some unhappy that the debate-turned interview put Liu in a disadvantaged position.  
In an interview with KiniTV, a news channel on YouTube, Liu said that the biggest deficit in the US-China relationship was not the trade deficit, but the understanding deficit. "I believe that the Chinese people know much more about America than Americans know about China," she said, adding that her goal was to change the American people's perception of Chinese women, and perhaps Chinese people as a whole, and to show that Chinese are willing to talk to them and are not hiding from the problems they are facing. 
Liu said similar things to Chinese media. During an interview with Face-to-Face, a popular CCTV current affairs program, Liu said that after 40 years of engagement, while trade volume between the US and China has multiplied many times, the American people's understanding of China has remained the same. She said she wants to change the American perception that Chinese TV hosts are just "someone rigidly reading the texts given to them."  
In response to a question on her apparent disadvantaged position in the debate, Liu said that what matters is not to walk out as a "winner," but to initiate a genuine dialogue between the two countries.  
"I knew that I wouldn't be able to see her [Regan's] face, I could only hear her voice from my headset, I would have no control over the whole process, and she [Reagan] got to pick what to ask, change the subjects and make comments before and after the program, but for what advantages I had given up, I got an opportunity to talk directly to ordinary American people, which is unprecedented in the past 40 years," Liu said. 
"Given the current status of the China-US relationship, what good can it bring [with a more confrontational tone]?" Liu asked. "My goal is to tell them that we Chinese are not what they think we are, and that the two nations can talk to each other and cooperate with each other," she added.  
When asked to comment on Regan, Liu said she found Regan to be rather fair and friendly, and she thinks that she has achieved "80 percent" of her goal. "She could find a friend in me," Liu said.  
The 'Party Line'
But many Chinese viewers do not share her optimism. The mood is best captured in a video that analyzes the interaction made by Nathan Rich, an American who lives in China.  In the video, which has been viewed several millions times online, Rich said that Regan and Liu were not on the same page during their entire discussion and that by framing Liu as part of the CPC, Regan was ready to throw out anything Liu wanted to say from the very beginning. 
To prove his point, Rich included the interaction between Regan and another guest Michael Pillsbury, the American Director of the Center on Chinese Strategy at the Hudson Institute, immediately after her conversion with Liu, something not included in the video clip available to most Chinese viewers.  I
n her interaction with Pillsbury, Regan asked: "She [Liu] mentioned she's not a card-carrying member of the CCP [Party], but you can't really operate as a television network there, if you are not subscribing to party belief, am I right?"  
"Yes, I don't want to say she'd be arrested immediately, but she is very discreet I think, she very much sticks to the line of the Chinese communist government," Pillsbury responded.
"Liu Xin is trying to have a discussion or friendly debate, but Trish's reply shows you her intentions [of discarding what she has said]," commented Rich. 
For many Chinese who have experienced communicating with Americans, it is this kind of simple but stereotyped way to interpret China that has forestalled genuine communication between the people from the two countries.  
Yang Qing, a business manager at an American company who studied in the US in the mid-2000s, and obtained a graduate degree from the University of Illinois in Chicago, told NewsChina that in her experience, she often found that many Americans lack a genuine intention to engage in substance-based dialogue on issues related to China, especially political issues.  
"More often than not, when you challenge a mainstream presumption held by Americans on China, the idea that your argument must be a result of brainwashing by the Chinese propaganda machine quickly comes to their mind," Yang said. "They will not say it directly, but will ask questions like 'where do you learn this from?' or 'do you learn this in school?'" 
"The problem is that it is a self-fulfilling logic: If you challenge the mainstream narratives of the US on China, you reinforce a prevailing idea that the Party controls the mind of Chinese people through brainwashing, and if you agree with them, you reinforce that assumption that a free-thinking Chinese would embrace American theories on China," Yang said.  
"The result is that it immediately puts an end to any substance-based dialogue, because it does not matter what you say now. Whatever you say, you prove the American narratives correct," Yang added.  
This may be the reason why conservative and liberal media in the US, which are at odds with each other most of the time, tend to adopt the same narratives about China. The New York Times, a liberal media outlet that disagrees with Fox News on almost every other issue, for example, took a similar tone in its report on the debate, as Liu's comments were categorically painted as "unsurprisingly stuck close to the Party line."  
Different Mentality
But for others, the reason behind the so-called "understanding deficit" problem does not lie in the lack of information and knowledge. A professional interpreter who was involved in the recent talks between the US and China, but who was not authorized to speak about it, told NewsChina that the biggest discrepancy he found in his professional experience is the mentality adopted by Chinese and Americans regarding the meaning and purpose of understanding.  
"For Chinese, understanding is mutual, and by understanding the other party's position and concerns, the goal is to meet the other party half-way to find common ground for coexistence, conciliation or cooperation," he said.  
By contrast, the US tends to adopt a more direct and unilateral approach, and the goal of understanding tends to make a value judgment over the issue, which often allows no room for the kind of understanding that makes sense to Chinese.  
According to the interpreter involved in the trade talks, the negotiations can be held as an extreme example of the different mentalities adopted by the two sides.  
By blaming China for "stealing" and taking advantage of the US, the Trump administration has framed the entire trade negotiations as a process through which China has to rectify its wrongdoings. But for China, if the negotiations are to result in a deal, it has to be a mutual process, with mutual promises and mutual commitment. If there has to be a monitoring mechanism, it has to be mutual as well, said Chinese officials. 
According to Liu He, China's vice premier who led China's negotiating team, the US not only insisted on keeping the tariffs in place even after the proposed trade deal was signed, but also forbade China from retaliating with its own tariffs. Contrary to the US allegation that China has backtracked from its previous promises made during the talks, Liu said it was Washington that had made "ever-inflating" demands for China to buy more American products.  
In the latest Chinese government White Paper on the trade talks released on June 2, China said that it is still open to a "mutually beneficial and win-win agreement," but will only accept a deal that is equal.  
Round Two?
But for observers like Rich, it is increasingly difficult for the Chinese side to deliver a message of "win-win cooperation" without sounding like a demagogue to American ears.  
Taking the discussion between Regan and Liu as an example, Rich said Liu's efforts to push the message of cooperation only makes sense to the Chinese people. "A lot of Americans view this kind of preaching cooperation as a sneaky way to gain control or gain the upper hand," he said. Liu appears undaunted. When Regan asked if she wanted to continue the "thoughtful, respectful discussion," Liu said she would propose a date for round two of their live debate in late June.  If round two of the Regan-Liu debate does take place, it is likely to somewhat coincide with the highly anticipated meeting between Chinese President Xi Jinping and Trump which may take place on June 27 on the sidelines of the G20 summit to be held in Osaka, Japan.  
The meeting is widely considered the last chance for the two countries to de-escalate the situation. It seems the future direction of the US-China relationship is now hanging by a thin thread.  
"With US-China relations moving into uncharted waters, educating and informing policy-makers and the public is more important than ever," wrote Michael Szonyi, Director of the Fairbank Center for Chinese Studies at Harvard University in his 2018 book The China Questions.  In a keynote speech delivered at Harvard College China Forum in April, Szonyi, arguably the first scholar to raise the concept of an "understanding deficit" between the US and China, called for "a more nuanced and sympathetic understanding of issues that affect China" in order to "rebalance the US-China relationship in favor of good will and mutual respect."  
"It means reorienting ourselves. It means not just passively riding on the coattails of US-China engagement for financial gain. It means refusing to leave engagement in the hands of our political leaders," Szonyi said.