China's massive livestreaming and short video industry has a new kind of celebrity
W
alking through a glossy rice paddy, farmer Liu Suliang continues through a dense bamboo grove and over a rippling creek before arriving at his barn. Inside live his precious livestock: more than 1,000 bamboo rats.  
"Look at this naughty one," Liu says while holding a squirming specimen by its tail. "It may be small, but it always bullies the big guys. Yesterday it even injured a female rat. How can you treat girls like that? You are such a bad-tempered boy, aren't you?"  In the next shot, Liu is roasting the rat over a barbecue by the creek. 
Liu, 29, began making videos with former classmate Hu Yueqing on livestreaming platforms like Kuaishou and Bilibili under the name the Huanong Brothers, or "Chinese Farmer Brothers." Their videos depict their daily lives in rural Nanjing, East China's Jiangxi Province, from fishing and cooking to helping a sow deliver piglets. However, their bamboo rat series is by far the most popular, garnering millions of views.  
The short video industry is massive in China. Previously dominated by luxury lifestyle vloggers and pretty young girls dancing, singing or just looking pretty, video platforms have seen a growing legion of rural content creators, charming internet users with videos about their day-to-day lives in the countryside and small cities.  
There are more than 700 million people living in rural China, 210 million of which are internet users searching for content that reflects their lives. Rural livestreamers and videomakers are not only finding an audience, but also attracting greater attention to life in China's long-overlooked countryside.  
Farm Fresh Fame
Liu Suliang has an air of natural simplicity on camera. He wears plain clothes, muddy jeans and a pair of oversized plastic flip-flops. In his videos, he often interacts with animals, from bamboo rats to piglets, ending each with his now famous catchphrase: "It's very pretty."  
"That's how we describe good things where we're from," Liu told NewsChina.  
Liu's partner Hu Yueqing mans the high-resolution camera, tripods and portable lighting. He mostly remains off-camera, filming as Liu does his thing.  
Hu realized that Liu has a natural sense of humor, which is overlooked where they live, but is entertaining to urban teens and young adults. Liu's accented Chinese, sincere expressions, unaffected jokes and straightforward style give him a very natural charm that young viewers find entertaining and appealing.  
Liu and Hu usually film over two days and spend five hours editing what is ultimately a five-minute video. The duo has 3.1 million fans on Bilibili, China's leading online video platform.  Before 2014, Hu followed the same path as millions of migrant workers – he left for Shenzhen at 16 and worked in a factory making components for iPhones. Hu found the job unbearably tedious, and earning 5,000 yuan (US$724) a month was barely making ends meet. He returned home in 2014 to sell traditional Chinese medicine.  
In April 2017, he noticed that livestreaming was lucrative. Hu first collaborated with his friend Tan Haiyang, making videos of them fishing and feeding chickens. Their endeavor lasted about six months before Tan was pressured by his family to find more stable work in the city. Later that year, Hu paired up with Liu, a bamboo rat breeder who spent his days tending to the 1,000 rodents in his barn. They soon discovered they had a hit series – how to cook bamboo rats.  Hu and Liu refused to disclose how much money they make from their videos. "I don't want the younger generation in rural areas to have unrealistic expectations about livestreaming," Liu told
NewsChina. 
Dubbed the "Useless Edison," inventor Geng Shuai, 30, is another country-based celebrity who creates machines that are more laugh-inducing than labor-saving.  
Even a list of Geng's crazy contraptions is entertaining: a motorbike with a toilet, a meat-cleaver-turned hair comb, a quirky shoe that can turn into a low stool for sitting anywhere, and an "earthquake-proof" noodle bowl that allows a table to vibrate while the noodles remain steady enough to eat.  
Hailing from Baoding, Hebei Province, Geng skipped high school to work as a plumber with his father. Tired of construction, Geng left the job in 2017 to focus on making his imaginative inventions full time. Releasing a new video weekly, Geng has amassed more than two million followers on livestreaming platform Kuaishou and over one million fans on Sina Weibo, China's equivalent of Twitter.  
"People I knew used to laugh at me and say I was doing useless things. They saw me as some kind of madman. Now I have millions of people laughing with me – I'm an online star," Geng told NewsChina.  
The wilder and more impractical the inventions are, the more fans love it. "I will unfollow you if you start to make 'useful things,'" one of Geng's Weibo followers posted.  
Rural China (Mis)represented
If rural content creators like the Huanong Brothers and Geng Shuai satisfy that yearning for a simpler life among urban youth, then Li Ziqi takes virtual escapism to a whole new level.  Li grew up with her grandparents in a remote mountain village in Mianyang, Sichuan Province. There, she learned how to cook traditional dishes, grow vegetables, farm fish and weave baskets; she also knows carpentry. 
Her video career took off four years ago when her brother introduced her to the Chinese video app Meipai. She started making short videos on cooking traditional dishes using fresh ingredients from her farm and how to make household items from scratch. Set to soothing background music, her videos include bucolic shots of rural Sichuan and Li dressed up in hanfu, or traditional Chinese costume. Li attracted international attention with her YouTube channel in 2017. She now has 16 million Weibo fans, 3.3 million YouTube subscribers and two million friends on Facebook.  
Unlike the Huanong Brothers and Geng Shuai, Li distances herself from the rural web celebrity moniker. She and her team are very aware they are not presenting the reality of rural China, but rather an idealized version similar to that depicted in ancient Chinese painting and poetry.  Li's manager told NewsChina that they prefer to use the words "pastoral" and "idyllic" instead of the word "rural" to describe Li's content.  
"Chinese people of all ages have an idyllic dream deep inside their hearts. Li also has such a dream. The key to her success is that she has visualized her dream for us," her manager said, who insisted on anonymity. 
Answering online criticism of Li's videos for misrepresenting life in Chinese countryside, her manager said, "Why must we present reality? Do people really show the reality of their lives on social media?" 
However, these celebrities are exceptions. China's video-sharing platforms are full of rural content creators who fail to resonate with urban audiences. Some videomakers have even attracted the ire of mainstream media for content criticized as tasteless exhibitionism.  
In his widely circulated post "Cruel Stories of the Grassroots: Rural China in Video Apps," Nanjing University postgrad Huo Qiming revealed how attention-seekers from third-tier cities or rural areas draw millions of followers on Kuaishou with videos featuring self-harm, violence and vulgarity.  
At the time, a significant amount of Kuaishou content included stunts more likely found in a circus sideshow, such as a man crouching over lit firecrackers in his underwear or a woman eating everything from light bulbs and lit cigarettes to live eels.  
Some were exploitative, featuring children smoking cigarettes, drinking alcohol and telling dirty jokes. Others included pregnant teens showing off their swollen bellies. "You would wonder whether you were watching a clip from a 'snuff film' or a B-movie," Huo wrote.  
While this may seem like standard internet fare, the article attracted widespread attention on Chinese social media, and from authorities. A crackdown followed, and Kuaishou was forced to censor videos deemed immoral and vulgar from its site. 
Critics argued that neither pastoral idealists nor self-inflicting attention-seekers provide an accurate image of contemporary rural China.  
Filming the Future
Rural web celebrities often start out much like most migrant workers – dropping out at a young age to leave home and work in the coastal cities.  
Meng Huan and his friends are a group of millennial migrant workers from Tanghong Village, Guangxi Zhuang Autonomous Region, a place where most leave for the city by the time they turn 15.  
Meng is no exception. He quit school at 14 to work in a factory in neighboring Guangdong Province. Burned out by 18, he returned home in 2016 to team up with a group of friends to make funny shorts about village life. Posting videos under the name San Pao, Meng and his friends draw from their favorite Hong Kong comedies, particularly the offbeat style of filmmaker Stephen Chow. So far Meng and pals have more than 5.5 million followers on Kuaishou, where fans call him the "Stephen Chow of Kuaishou." 
Their videos often parody urban culture and style. One shows the green army surplus shoes often worn in the countryside and by migrant laborers painted with Nike and Supreme logos. In another, they make fun of Western table etiquette by using a knife and fork to eat mooncakes, a traditional Chinese pastry eaten at the Mid-Autumn Festival.  
"I am the hope of our village," Meng said jokingly in one of his videos. "We are the last young people left in our village. Other guys left home to work in the cities and they still can't find wives. We can make a living by making funny videos at home. Aren't we the hope of the entire village?" 
While many migrant workers realize that the potential for profit in livestreaming, few return home to try it. Hu Yueqing explained villagers who return home at too young an age are seen as failures, and are ridiculed for it. 
"Making videos is obviously a risky business," Hu told NewsChina. "Most country people would rather toil in big cities earning humble yet stable incomes than come back. Staying in the cities also means that they won't face mockery from their fellow villagers."  
Hu and his first partner Tan Haiyang faced similar criticism from family and friends. Tan's father complained he was "goofing around and doing nothing," his dissatisfaction a source of constant quarreling between them. Tan spent six months making videos before he gave in to the pressure and left for the city.  
Being a full-time web celeb may be an unsteady job, but more farmers are reaping rewards from the livestream boom. Since 2017, video-sharing platforms Xigua and Kuaishou and leading e-commerce platform Taobao have partnered with local governments to launch livestream campaigns that aim to help content creators from poor areas to sell their produce. Gan Youqin, a fruit farmer from Lingshan County in Guangxi, known by her online name Qiaofu Jiumei, has leveraged her celebrity to help fellow farmers sell eight million kilograms of lychees and longan fruit via livestreaming to her nearly three million followers. 
Huanong Brothers know the fickle nature of social media. This year, the pair plans to shift their focus from video-making to bamboo rat breeding and sales. "Both of us know that the popularity of our videos will die down someday – in fact there has already been a conspicuous decline in viewership this year," Hu said. "After all, you can't expect netizens to be faithful for long. Perhaps one day they won't take any interest in our content."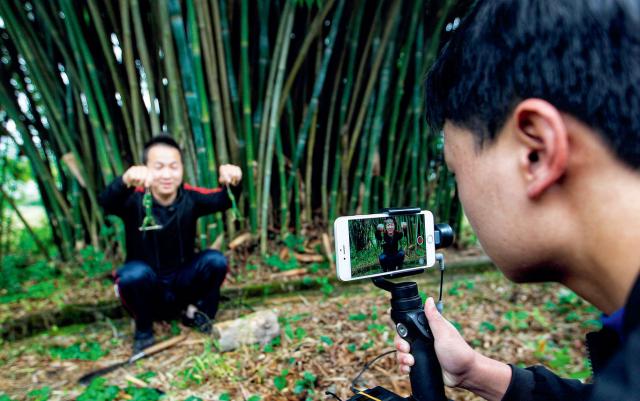 Farmer Chen Yongdong makes a video about his "bamboo robots" in Huangzhulong Village, Jiangxi Province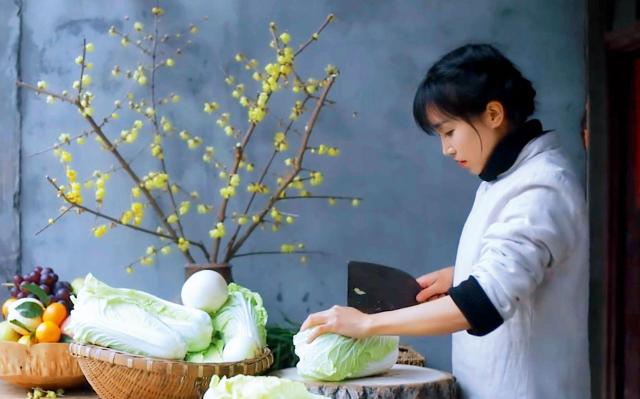 Li Ziqi, one of the most popular web celebrities in China, is known for her videos showcasing an idyllic lifestyle, like cooking traditional Chinese dishes and making household items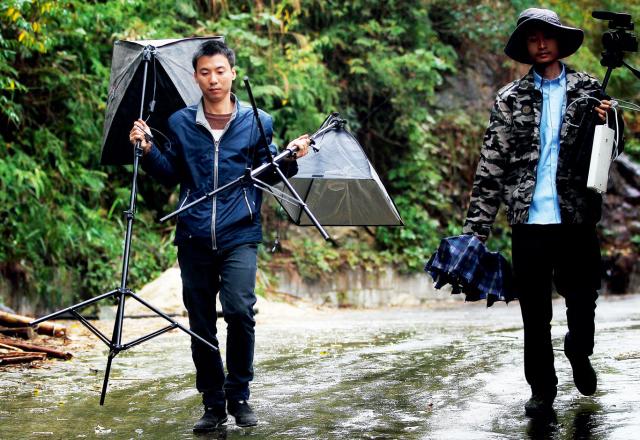 "Huanong Brothers" Liu Suliang (left) and Hu Yueqing pack up their equipment after making a video in Nanjing, Jiangxi Province