Men are becoming important consumers in China's aesthetic medicine market as conservative views clash with a society determined to leverage their looks to get ahead
"
I'm a bit obsessed with my eyelids," said Ray Ye, who describes himself as having "mediocre looks." The 27-year-old, from Fuzhou, capital of Southeast China's Fujian Province, has just undergone another procedure to improve the look of his eyes, after having undergone a surgery two years before to make double eyelids. Next, he's considering facial contouring.  
Ye had undergone all kinds of cosmetic procedures since 2012, when he started with rhinoplasty, an injection of hyaluronic acid, a dermal filler, into his nose, and a face lift. "I feel much better about my life now," he said.  
In recent years, in a country where for years, less was demanded of men in terms of appearance or personal grooming, more men like Ye have become receptive to aesthetic medicine products and brave enough, both physically and psychologically, to undergo surgery. Some are open enough to share their experiences on social media platforms dedicated to male grooming and cosmetic procedures, responding to questions and giving advice. The cosmetic procedures men choose have evolved from hair transplants, which are regarded as almost
normal, to photorejuvenation, a laser procedure which treats signs of aging like wrinkles.  
A report released by Gengmei, a cosmetic surgery social media platform, revealed that by the end of 2018, among the 22 million consumers of aesthetic medicine, men accounted for 15 percent. According to statistics from Meituan-Dianping, a food delivery and service platform, during a promotion of aesthetic medical products from June 13-18, male consumers accounted for 25 percent of the four million buyers.  
Compared to female consumers, male consumers spend more on average. An August 2018 report from SoYoung, another cosmetic surgery app which is backed by tech giant Tencent Holdings and which was listed on the Nasdaq in May, found that on average, each male consumer spends 7,025 yuan (US$1,000) annually, 2.75 times that of each female consumer. Even though the proportion of male consumers is relatively small in the aesthetic medicine market, the report predicts that growth in the number of male consumers will surpass that of
females in the future.  
Chinese men's changing attitude toward cosmetic procedures together with a more tolerant society is making them an increasingly important source of consumption growth for the industry, experts said.  
By the end of 2018, China had become the third-largest aesthetic market in the world, accounting for 10 percent of the global market, following the US and Brazil, according to a report published in February by iiMedia Research, a Shenzhen-based data service platform.
Pursuing Beauty
Ye started to pay more attention to his looks when he was at college. When he was 20, he had his first dermal filler procedure to get a high nose bridge, an "advantage" as he described it. Since then, he has sought to continually improve his looks, undergoing procedures from double eyelid surgery to facial liposuction.  
In the beginning he chose big local hospitals, but later he crisscrossed the country in pursuit of doctors on social media recommendations. He puts his total spend so far at around 500,000 yuan (US$71,189.6). "I'm excited every time I lie down for a new surgery, unlike many men who'd be nervous. To me, it is simply like a girl putting on make-up," Ye told NewsChina. 
Ye said he improves his looks mainly to please himself. But as a teacher at a training center, he said that he started to feel more confident after his first successful cosmetic procedure. He credits it with being able to put himself forward for work opportunities that he might have let go before. Now, he's head of a branch school. His classes are popular, partly due to his "good looks," Ye said, as young students "prefer good-looking teachers."  
But, says Ye, he is clear that looks are just a plus, and he would not have become successful if he were not first a good teacher.  
Ye can be counted among the main cohort of male consumers in the cosmetic surgery market. They are young and want to improve their looks to get more opportunities or simply please themselves, according to Wang Jun, vice president of marketing at Gengmei. "They have little to their name at that age and are willing to improve their looks to gain something," Wang said. Jin Qi, a doctor at the Plastic Surgery Hospital under the Chinese Academy of Medical Sciences & Peking Union Medical College in Beijing, told NewsChina that he has seen a marked increase in the number of males seeking procedures in the past eight years. Many are new college graduates.  
There are nearly 20 million aesthetic medicine consumers in the Chinese mainland, and for every 100 consumers, 64 were born in the 1990s and 19 were born in the 2000s, according to the SoYoung report. It concludes that aesthetic medicine is a normal part of life for people born in the 1990s, who use cosmetics procedures to welcome different chapters of their life from graduation and job hunting to marriage. 
Older men, the same as women, are more interested in anti-aging procedures, Wang said. "They don't want to admit they're getting old, but they are aware of the crisis. Some turn to aesthetic medicine as a response to real-life problems, like in their relationship, marriage or career," Wang added. 
"Older men who care about their wrinkles are beginning to have the time and money to fight against aging," Jin said. 
During the 2018 Double 12 Shopping Festival, one of a number of online shopping promotions led by Chinese tech giants, Gengmei reported that male spending on plastic surgery institutions accounted for 26 percent of total sales. Hair transplants, eye bag removal, nose jobs, botox and acne removal are the top five choices for men.  
One's profession is not necessarily related to whether men are more inclined to undergo a procedure, but according to Wang, actors, internet celebrities and live streamers are more likely to seek treatments.  
Teachers with a stable income and students who are keen on following fashion – and who have long vacations – are an important source of male consumers.  
"Compared to women's variety of, and sometimes vague, demands in improving their looks, men usually have a narrower scope. Men go to cosmetics institutions less frequently, but they are more pragmatic and goal-oriented when seeking cosmetic procedures, aiming to solve practical problems," Wang said. 
Conservative Market
In China, aesthetic medicine was not officially recognized as an industry until the 1990s. It began to pick up after 2010 and has seen rapid growth. In the three years between 2016 and 2018, the market rose by 31.83 percent on average annually, according to the SoYoung data.  The market value of aesthetic medicine reached more than 200 billion yuan (US$28.5b) in 2018, with some 20 million consumers, according to reports from Gengmei, SoYoung and iiMedia Research. Until recently, it was more common and accepted for women to have cosmetic procedures.  
"Men always had demands in this respect, such as fixing skin blemishes and signs of aging. But in the past, Chinese men were relatively conservative, given the overall influence of Chinese culture, and were reluctant to resort to procedures, worrying about what others might say about them," Wang Jun said. 
But alongside economic development and societal acceptance, more men realize that it is possible to turn to cosmetic procedures to improve their appearance, Wang said. 
The change has come as younger generations in China are focusing more on their looks, which they consider an advantage when in the job market or dating. A 2018 survey from Gengmei and Zhipin.com, a job-hunting platform, found that 90 percent of people born in the 2000s and 50 percent of those born after 1995 said they are aware they may have an edge when competing for a job if they are thought to be better looking. Nearly 70 percent of people in the job market will invest over 20 percent of their salary in improving their looks, the survey showed.  
In December 2017, Gengmei CEO Liu Di said at the annual T-EDGE Conference in Beijing, which focuses on cutting-edge technology and innovation, that in the previous three years, the number of male consumers aged between 30 and 40 signing up to the app had increased by more than 50 percent in first- and second-tier Chinese mainland cities.  
A report on the global trends of aesthetic medicine in 2019, published by Ireland-based pharmaceutical company Allergan in December 2018, predicts that 37 percent of Chinese men are potential consumers of aesthetic medicine, slightly higher than the average global percentage. 
"It is an inevitable trend. In more developed aesthetic medicine markets like the US, Brazil, Japan and South Korea, the growth in the male market far surpasses that in the female market. It is a huge market to be exploited," Jin Qi said.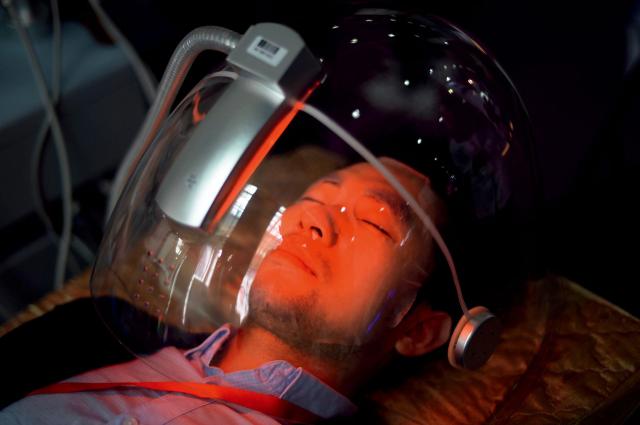 A man tries a new skin treatment at a beauty and cosmetics exhibition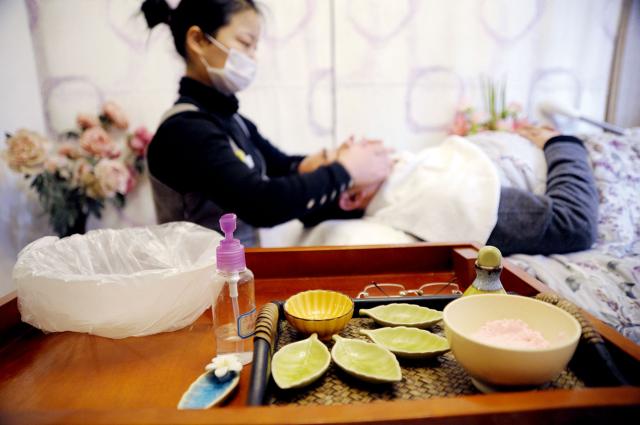 A man receives a face massage and skin treatment at a spa
Societal Prejudice
But the male aesthetic medicine market is still in its infancy, Wang said.  
"It's probably too early to design products or packaging specially targeting male consumers. But the marketing will increasingly target them," she said,"First, we need to let men who actually have demands in this respect be aware of the problems they have." She added that the demand is huge. "Every time I post [online] about aesthetic medicine, loads of people in online industries ask about hair transplants and acne removal." 
The market is already shifting its attention to this group of consumers, judging by the number of ads targeting male customers. Even so, there is still societal prejudice, sometimes reflected in online discussions targeting young male celebrities and influencers. This culminated in attacks against young men perceived to look effeminate, who were dubbed "sissy men" by an article from the State-run Xinhua News Agency last September. Some online commenters are apparently threatened by the blurring of gender norms and point to the feminization of young male pop stars, claiming that young Chinese men are experiencing a masculinity crisis. Other commentators and news outlets, however, leapt to their defense.  
When NewsChina tried to reach out to men who have had cosmetic procedures, they either refused to admit they had work done, or refused to comment about their experiences.  
Ye told NewsChina that while he is popular among young students, some parents have a different opinion about his emphasis on looks, saying "a teacher should behave like a teacher."  
"They represent the traditional idea about how much a man should pay attention to looks," Ye said. There is also gossip about him at work. Some naysayers attribute his popularity and success to his looks, not his teaching ability.  
The lack of understanding is also demonstrated by surgical practitioners. Ye once consulted a prestigious doctor who refused to perform a double eyelid surgery for him. "I already had double eyelids and wanted to make them look more like a European guy's. The doctor thought I looked good enough already and couldn't understand why I as a man would pursue beauty so obsessively," Ye said. 
"We still have a long way to go, to accept and respect a person whatever choice he makes," Wang said. 
The psychological immaturity and vulnerability of men in seeking cosmetic surgeries explains another side of the story. According to Jin Qi, some doctors are not willing to accept male customers because on average men are not as mature and prepared as women to undergo cosmetic surgery as well as face the possible risks. 
"Women usually have better understanding of aesthetic medicine and the risks from their own experience and seeking advice from others. To them, it's just one channel leading to beauty and no big deal. But for men, we as doctors usually need to spend more time talking with them, to make sure they are psychologically healthy and mature enough for a procedure and are able to bear the following changes and possible risks," Jin said.  
He said he usually rejects a male patient at first, to give him time think thoroughly about the pros and cons of a procedure. Jin said he had encountered many young men who wanted a procedure because of problems with their career, job hunting or a relationship. "Then I tell them a surgery can't fix their dilemmas in life." 
"Given the social environment, men have more pressure when they have cosmetic surgery. They are more prudent and as a result are easier to get anxious when things do not go as smoothly as expected, which is not good for recovery. They expect no mistakes and hope to gain more from it rather than to take more risks," Jin said.  
While acknowledging the market potential for males' aesthetic medicine consumption, Jin suggested that a balance should be struck when trying to grow the market.  
"On the one hand, society shouldn't put too much pressure on men who have cosmetic procedures. On the other, it is not proper either to overly stress the positive effects of cosmetic surgery for men. Many Chinese men, as the first step, should pay serious attention to their appearance and take care of it, like most women do, before turning to procedures. There should be a sensible attitude toward looks and aesthetic medicine," Jin said.