Nezha, China's most successful home-grown animated feature of all time, has fueled expectations for the rise of the domestic animation industry
O
ver the scorching summer, Chinese cinema saw something very cool: Nezha, the latest domestic animated feature based on the tale of the fiery Chinese mythological deity.  
Released July 26, Nezha raked in US$91.5 million over its first three days, breaking the opening weekend record for an animated feature of US$65.2 million set by Despicable Me 3 in 2017. Remarkably, in just seven days, the film already beat Zootopia to become the most popular animated movie in the country.  
And much like the film's titular deity, the box office is still blazing: as of August 13, Nezha had earned 3.65 billion yuan (US$516m), beating action war film Operation Red Sea (2018) to become the fourth highest-grossing Chinese film in history. Movie ticket site Maoyan estimates total box office numbers will reach 4.76 billion yuan (US$675m), placing Nezha second only toWolf Warrior 2 (2017).  
More than 100 million people went to theaters for Nezha, making it the third most popular Chinese film after Wolf Warrior 2 and The Wandering Earth (2019) and the first animated feature to hit the 100 million attendance mark.  
Nezha has also garnered high scores on review platforms such as Douban, where it earned a rating of 8.6/10 from over 763,000 users – an unusually high rating for a box office blockbuster. 
There are high hopes for local animation in the wake of the huge success of Nezha. It has been called "the glorious light of domestic anime" by netizens and media. Many agreed that the legendary movie marks a milestone for the country's animation industry. 
Five Years in Purgatory
Produced by Color Room Pictures, Nezha is based on the popular mythological figure that was immortalized in the 16th-century Chinese novel The Investiture of the Gods (Fengshen Yanyi). Set in the Shang Dynasty (1600-1050BC), the novel intertwines many elements of Chinese mythology, including deities, immortals and demons. In his 2019 rendering, Nezha is transformed into a hated and feared reincarnation of a demon. But Nezha believes fate is not predestined and he can ultimately choose to be a demon or a god.  
Nezha director and screenwriter Yang Yu, 39, who goes by the name Jiaozi (which means "dumpling"), studied medicine before spending years teaching himself animation while living at his mother's home. Born in 1980, Yang graduated from West China University of Medical Sciences, today's West China Medical Center of Sichuan University. Years of professional training made him a meticulous perfectionist.  
After graduation, Yang spent three years and eight months working on his debut, See Through. The 16-minute animated short picked up prizes on local and international film festival circuits. Yang said making See Through was an ordeal. During that time he lived with his widowed mother, ate discount food and seldom went out. Their only income was his mother's humble pension. "During those years, it was like I was living in a space station with only three places to go – the living room, bedroom and toilet," Yang told NewsChina.  
He spent five years on Nezha, a period he describes as "purgatory." 
The first 3D Chinese animated film made for IMAX, Nezha is the most complex animated production ever made in China. It took Yang two years and 66 revisions to nail down the screenplay, and three years for production.  
"Nezha didn't have a big budget. In fact, the director [Yang Yu] was rejected by all the first-tier special effects studios in China. Later he cooperated with more than 60 second- and third-tier studios to finish all the special effects," Yi Qiao, CEO of Color Room Pictures and Nezha's producer, told NewsChina.  
The film has more than 2,000 scenes, 1,318 of which are special effects shots, and it took over 1,600 people from a variety of special effects studios to create the film's fairy-tale setting, the mysterious Dragon King's palace, and a stunning fight scene of fire and water.  
Lü Yanting, the voice actor who played Nezha, told NewsChina that she had to make her voice as low as she could. She almost lost her voice for one month. Han Mo, who voiced
another character called Aobing, said Yang would sometimes have them do over 100 takes for a single line.  
Yang told NewsChina the production teams went through more than 100 different versions of Nezha before settling on the "most unpleasant" one – a mischievous-looking boy with puppy eyes and crooked teeth. The dark circles under Nezha's eyes were inspired by the exhausted state of the production team.  
"Many people may find this Nezha unsightly, but I think this version is the best one for the theme of our movie – overcoming prejudice," Yang said. 
Because the original Nezha tale took place in Sichuan Province, Yang, also a Sichuan native, drew much inspiration from the local culture. For example, Nezha's mentor, Taiyi Zhen, a deity in Chinese folklore, is portrayed as a light-hearted alcoholic with a Sichuan accent. Also, the two masked bronze spirits who guard the door of Nezha's family home were inspired by the bronze busts with gold foil masks found in Sanxingdui, the site of a mysterious Bronze Age civilization in Sichuan.  
Heroic Reboot
The Nezha myth inspired many film and TV shows over the years, including China's first widescreen color cartoon Nezha's Triumph Against Dragon King (1979) and the 52-episode animated series The Legend of Nezha produced by China Central Television.  
Nezha is so popular in China that he shares a status alongside the Monkey King as the country's most famous mythical hero. 
However, the 2019 version has given the old story modern meaning through character relationships, plot and themes that strikes a chord with Chinese millennials.  
In the original tale, Nezha is a free spirit and a symbol of opposition to patriarchy. The third son of garrison commander Li Jing, Nezha is a rebellious teen who has a rather tense relationship with his father. Finding his son unruly and disobedient, Li Jing considers killing his son to preserve social and family order.  
Knowing that he could never please his father, Nezha commits suicide to deliver his people and hometown from destruction by the Dragon King. As he dies, he tells his parents that he will "return his bones to his father and flesh to his mother" so he will owe them nothing. He is later reborn from a lotus flower as a deity.  
Culture critic Han Haoyue points out that the original Nezha story is "ancient China's most violent tale centered on the father-son relationship." "In a Confucian society... Nezha's rebellion as a son and his eventual suicide had a tremendous tragic effect, making him almost like a tragic Shakespearean figure," Han wrote.  
In the latest version, Nezha is born as a demon child born to an ill fate, doomed to destruction on his third birthday as punishment from Heaven. The townspeople shun him, but Nezha believes fate is not fixed, and he has the power to choose it. "My fate does not depend on Heaven, only myself," Nezha said in the film.  
"The reconciliation between Nezha and his father makes the story less tragic than the original plot, but it gives modern expression to personal struggles and family relationships. This Nezha has come out of mythology to become a person everyone can relate to – he is Nezha and he is also one of us," Han said.  
The film blurs good and evil: there are no absolute heroes or villains. Audiences praised the film's character choices which aim to present the complexity of human nature.  
Aobing, the third son of the Dragon King, also has a complex personality. Mirroring Nezha, Aobing was born a god, but this mild-tempered, kind-hearted character is not portrayed as a hero. Instead, Aobing faces tremendous pressure as the only hope for saving his family, the Dragon Clan, which the gods imprisoned deep in the sea. To do so, he must destroy Nezha – his only friend. 
Shen Gongbao and the Dragon King, both villains in the original novel, are also portrayed as victims of fate and suffer injustices.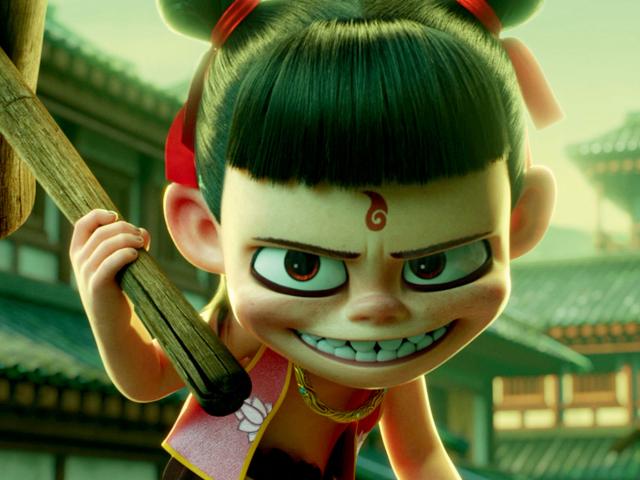 Still from Nezha, who is portrayed as a mischievous boy feared and hated by his neighbors
Still from Nezha. Shen Gongbao (left), a leopard-turned-deity, and the Dragon King are atypical villains: both are victims of prejudice – born as beasts, they cannot earn trust from the Emperor of Heaven or other deities no matter how hard they try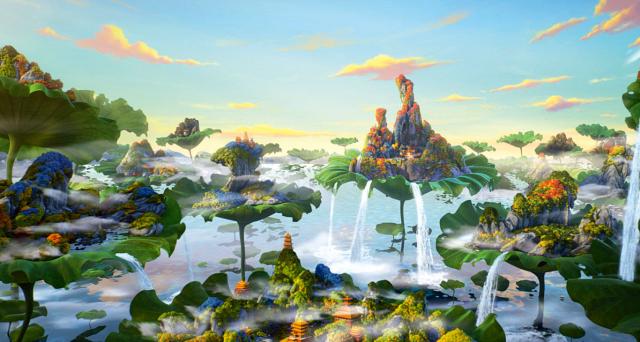 A fairyland setting in Nezha
Home-grown Animation
For decades, Japanese and American productions dominated China's animation market. Locally made features were mostly of poorer quality and largely catered to young children.  
According to CSC Financial, animated films in China accounted for only 6-10 percent of total box office sales, whereas in Japan the number has been above 40 percent since 2015.  
Yi Qiao blamed lack of talent. Color Room Pictures, the animation arm of Beijing Enlight Media, started in 2014. "At the time, there were very few directors in China doing animated films, because they usually couldn't make a profit. Many changed careers to making video games or kid-oriented animation," Yi told NewsChina. 
Yang Yu believes that local animation has long been subject to prejudice. "I suffered a lot from prejudice after changing my career," he told our reporter. Yang said many people around him said he was crazy for giving up his future prospects as a doctor to get into animation. He sees Nezha as his vindication for all the stereotypes and prejudices that shadowed his career and the industry. 
China's animation industry boomed in 2015 when Monkey King: Hero is Back became a nationwide hit. Based on the Chinese classic Journey to the West, the animated feature took in 956 million yuan (US$153m).  
The film owes part of its success to a phenomenon in China – enthusiastic fans that call themselves zilaishui (meaning "tap water"). Acting like a street team, they voluntarily promote the film through self-organized campaigns on social media.  
"Monkey King: Hero is Back kind of woke everyone up and made people realize that when we whole-heartedly dedicate ourselves to producing high-quality work, the passion of Chinese audiences for domestic animation would be tremendous. It was a strong message for all of us," Yang told newspaper Guangming Daily.  
In the wake of Monkey King: Hero is Back, more domestic animators have turned to Chinese mythology for inspiration, such as Big Fish & Begonia (2016) and this year's White Snake.  
Two more Color Room Pictures' productions, Jiang Ziya and Phoenix, both adapted from Chinese mythology, are slated for theaters in 2020. Like Nezha, character Jiang Ziya also appears in The Investiture of the Gods as a wise and mysterious minister who made great contributions to founding the Zhou Dynasty (1046–256 BC).  
With the success of Nezha and other mythological adaptations, some predict that Chinese animators may create a universe similar to Marvel and DC, considering the deep wellspring of mythology to draw from.  
"The most exciting point about Nezha is that it gives audiences a glimpse of hope that Chinese animation may one day have its own mythological universe. Apart from the upcoming Jiang Ziya, there is buzz that Nezha will also appear as a side character in the Monkey King: Hero is Back sequel. This suggests that characters such as Nezha and the Monkey King will be Chinese versions of superheroes," film critic Ye Zhiwei wrote for the Xinhua Daily Telegraph on August 9. Yang, however, said that time has yet to come. "When high-quality animated works are produced on a regular basis, then we will embrace the true spring of Chinese animation. When the notion that 'the rise of Chinese animation' is no longer being discussed so often and people see high-quality domestic animated works as normal, then that would be when the Chinese animation renaissance has truly arrived," he said.