1
979: Formal Diplomatic Ties  
Following US President Richard Nixon's historic visit to China in 1972, China and the US under the administration of US President Jimmy Carter established full diplomatic relations from January 1, 1979. While acknowledging the one-China principle, the US severed official ties with Taiwan. Former Chinese leader Deng Xiaoping, architect of China's reform and opening-up policy which was launched in 1978, made a historic visit to the US in 1979, marking the normalization of the China-US relationship. In the meantime, Congress approved the Taiwan Relations Act, signed into law on April 10, 1979, allowing Washington to continue commercial and cultural relations with Taiwan, as well as arms sales.  
1982: Third Joint Communiqué 
Under the administration of President Ronald Reagan, the US issued in July 1982 the "Six Assurances" to Taiwan, including pledges that it would not formally recognize China's sovereignty over Taiwan, and that it would not set a date to terminate arms sales to Taiwan. But then in August, the US signed a third joint communiqué with China, reaffirming the one-China principle and pledging to "gradually reduce its sale of arms to Taiwan, leading, over a period of time, to a final resolution." 
1984-1985: US Arms Sales to China 
Despite the Reagan administration's vocal support for stronger ties with Taiwan, the US further improved its relationship with China against the backdrop of a heightened rivalry between the US and the Soviet Union following Moscow's invasion of Afghanistan in 1979. The US lifted the ban on arms sales to China in 1981 and in April 1984, US President Ronald Reagan visited China. His trip was followed by US approval of military exchanges with China, including technological cooperation and arms sales to China. In July 1985, Chinese President Li Xiannian visited the US, the first time a Chinese president visited the US. 
1989: Tiananmen Square Incident 
Protests erupted in Beijing and other parts of China in the spring of 1989. In the wake of the political turmoil, the US froze ties with China and suspended all arms sales.  
1992: Korean Nuclear Crisis  
In August 1992, China established formal diplomatic relations with South Korea, a decision that infuriated North Korea, which had just lost the backing of Moscow after the collapse of the Soviet Union in 1991. In response, Pyongyang announced its intention to withdraw from the Nuclear Nonproliferation Treaty (NPT), which triggered a nuclear crisis on the Korean Peninsula.  
1993: Yinhe Incident 
In late July, 1993, the US made a false claim that a Chinese ship the Yinhe was carrying chemical weapon materials to Iran. The US Navy harassed the Yinhe and forced it to stop in international waters for a month. China eventually agreed to allow the US to search the ship. Although the inspection made by the US found no chemical weapons materials, the US refused to apologize.  
Under the Clinton administration, the US launched a policy of "constructive engagement," which aimed to influence Chinese policymaking on a number of issues through engaging with China. Meanwhile, China, under new leader Jiang Zemin, called for the two sides to "increase trust, reduce troubles, enhance cooperation and eschew confrontation."  
1994: Improved Trade Relations 
In May 1994, the US granted China Most-Favored Nation trading status. In October, the US and North Korea signed the Agreed Framework which served to defuse the North Korean nuclear crisis until 1998. 
1995-1996: Third Taiwan Strait Crisis 
In early 1996, with Lee Teng-hui of the Kuomintang Party, who was to become Taiwan's first pro-independence leader, set to win the island's first general election, China responded by launching missile tests in the Taiwan Strait. The US sent two aircraft carrier battle groups to the region, triggering the Third Taiwan Strait Crisis in 1996. It appeared at that time that the China-US relationship had reached a new low, as in 1995, after Clinton broke diplomatic protocol to authorize a visit by Lee to the US, China recalled its ambassador to Washington. But the diplomatic crisis proved to be short-lived, and in late 1996, the two countries agreed to exchange officials again.  
1997-1998: China-US Ties Recover 
Despite the Taiwan Strait Crisis in 1996, the US-China relationship appeared to have returned to normal in 1997. In October of that year, Chinese President Jiang Zemin visited the US, the first trip by a Chinese president in 12 years. Then in 1998, US President Bill Clinton made a reciprocal visit to China. The US also permitted a US satellite to be launched by a Chinese rocket, a symbolic move for US-China cooperation. 
1999: Belgrade Embassy Bombing 
During NATO's campaign against Serbia over controversies surrounding Kosovo in May 1999, a US aircraft bombed the Chinese embassy in Belgrade, killing three Chinese reporters and injuring 27 Chinese nationals who were at the embassy. Although the US apologized, claiming the deadly bombing was an accident resulting from an intelligence error, many in China believed it was intentional, leading to large-scale demonstrations outside US embassies and consulates throughout China. The relationship recovered later that year after US President Bill Clinton sent a special envoy to China.  
2000: Permanent Normal Trade Relationship 
After several rounds of negotiations in 1999, the Clinton administration officially announced it would grant China the status of permanent Normal Trade Relations in October 2000, which also paved the way for China to join the World Trade Organization (WTO) in 2001. China's joining the WTO is now considered a major event that kickstarted the rapid economic growth of the following two decades.  
2001: Standoff over US Spy Plane 
In April 2001, a US EP3 reconnaissance plane flying near the island province of Hainan collided with a Chinese fighter jet. The collision caused the jet to crash into the South China Sea, killing the Chinese pilot. The US plane made an emergency landing on Hainan and its 24-strong crew was detained by Chinese authorities. The incident led to a 12-day standoff. After US President George W. Bush expressed regret over the death of the Chinese pilot, China released the US crew. 
2002: US-China Cooperation after 9/11 
Identifying China as a "strategic competitor," rather than a "strategic partner" during his presidential campaign, US President George W. Bush initially took a tougher stance on China. But after the 9/11 attack in 2001, the US's strategic focus shifted to its war on terror, and Sino-China cooperation continued. In February, Bush paid a visit to China. In October, Chinese President Jiang Zemin paid a high-profile visit to Bush's ranch in Crawford, Texas. The two sides agreed to work toward "frank and constructive cooperative relations," moving the bilateral relationship to a new position referred to as the 'three Cs': candid, constructive and cooperative. 
2005-2006: 'Responsible Stakeholders' 
In 2005, Washington officials raised the concept of "responsible stakeholder" during its strategic dialogue with China. Recognizing Beijing as an emerging power, the concept calls on China to cooperate with the US on various international issues. In the meantime, Chinese President Hu Jintao raised the concepts of a "harmonious society" and China's "peaceful rise."  
Hu visited the US in April, where the two countries addressed the Iran nuclear issue, Sudan's humanitarian crisis and the Six-Party Talks on North Korea. After Pyongyang conducted its first nuclear test in October 2006 (and walked away from the talks in 2015), China served as a mediator to facilitate the talks between Pyongyang and Washington. 
In August, 2005, the first China-US Strategic Dialogue, also known as the China-US Senior Dialogue, was held in Beijing, and in December, 2005, the second strategic dialogue was held in Washington. 
In December, 2006, the two countries held the first meeting of the China-US Strategic Economic Dialogue. Five meetings under the mechanism were held between 2006 and 2008. 
2008-2010: China's Economy Converges on US's 
After becoming the US's second-largest trading partner after Canada in 2006, China surpassed Japan to become the largest holder of US debt at around US$600 billion in 2008. While the US struggled with the global financial crisis in 2008, China successfully hosted the 2008 Beijing Olympic Games.  
In April 2009, China and the US announced the establishment of an annual mechanism called the US-China Strategic and Economic Dialogue, which replaced the former Strategic Dialogue and Strategic Economic Dialogue. The mechanism serves to address the challenges and opportunities emerging between the two countries regarding a wide range of regional and global issues.  
In 2010, China surpassed Japan as the world's second-largest economy. 
2011: Obama's 'Pivot' to Asia 
In January 2011, Chinese President Hu Jintao paid a visit to the US, where he was invited to a rare private dinner at the White House with US President Barack Obama. But beneath the warmth on the surface, the bilateral relationship became ever more complex.  
In October 2011, US Secretary of State Hilary Clinton raised the so-called "Pivot-to-Asia" policy, which aimed to increase diplomatic, economic, military and strategic investment in the Asia-Pacific region. It was widely perceived to be a strategy to counter China's growing influence there. In the following months, the US increased its military presence in the region, prompting criticism from China.  
In the same month, Obama announced that the US and eight other countries had reached a "high-standard" agreement called the Trans-Pacific Partnership (TPP), a free trade deal that many considered was targeted at excluding China.  
2012: Increasing Disputes 
As the US trade deficit with China reached US$295.5 billion in 2011, it led to intensified trade disputes. The Obama administration imposed tariffs on various Chinese products, including solar panels and tires, in 2012.  
2013: China's New Leadership and New Initiatives 
In March 2013, Xi Jinping officially replaced Hu Jintao as Chinese President. Xi raised his iconic concept of "rejuvenation of the Chinese nation" and launched the Belt and Road Initiative.  
In June, US President Barack Obama hosted Xi at the Sunnylands Estate in California. The two sides agreed to cooperate on various issues, including climate change and North Korea. Obama and Xi also pledged to establish a "new model" of relations, apparently endorsing Xi's concept of establishing a "new type of great power relations" for the US and China. 
2014: Cyber Security and Climate Change 
In May, amid allegations over alleged Chinese cyber attacks against the US, a US court indicted five members of China's People's Liberation Army for stealing trade technology from US companies. China responded by suspending its cooperation in the US-China cybersecurity working group.  
In November, on the sidelines of the 2014 Asia-Pacific Economic Cooperation (APEC) meeting, Xi and Obama issued a joint statement on climate change. While the US pledged to reduce its emissions by 26-28 percent below its 2005 level by 2025, China said it aimed to peak its greenhouse gas emissions by 2030. 
2015-2016: South China Sea Disputes Escalate  
After simmering for a couple of years, the territorial and maritime disputes surrounding the South China Sea between China and neighboring countries emerged as a thorn in US-China relations.  
In June 2015 at the 14th Shangri-La Dialogue on Asian Security, an annual summit held in Singapore, US Secretary of Defense Ashton Carter criticized China for "militarizing" the South China Sea, and urged China to halt its land reclamation efforts in the region. China denied the militarization accusation and said it was the US Navy's frequent patrols in the region that militarized the region. 
2017 Era of Uncertainty Under Trump 
In February 2017, US President Donald Trump reaffirmed the one-China policy in a call with Chinese President Xi Jinping. In December 2016, after winning the presidential election, Trump had broken with established diplomatic protocol by speaking on the telephone with Taiwan leader Tsai Ing-wen, leading many to question Trump's stance on the Taiwan issue.  
In April 2017, Trump hosted Xi for a two-day summit at the Mar-a-Lago estate in Florida, where there were discussions on bilateral trade and North Korea issues. While officials from both countries described the summit as a success, disputes over trade persisted. 
In November, Trump visited China, where he was welcomed with a grand ceremony. Trump apparently backtracked on his previous harsh criticism of China and heaped lavish praise on Xi. The two sides signed deals worth US$250 billion and agreed to continue cooperating on the North Korean issue.  
2018: Trade Friction Escalates 
In March 2018, the Trump administration announced it would increase tariffs on Chinese imports worth more than US$50 billion, covering a wide range of products. China responded in early April with tariffs of its own. 
In July, the Trump administration imposed 25 percent tariffs on additional Chinese imports worth US$34 billion, covering 800 Chinese products. After China retaliated by imposing tariffs on some 500 US products valued at US$34 billion, the US further threatened to impose tariffs on all Chinese imports.  
In December, the US and China agreed upon a 90-day truce to the trade war to allow for further negotiations to reach a more comprehensive deal to end the spat.  
2019: Trade Deal Pending 
In February, 2019, China and the US held more rounds of high-level economic consultations in Beijing, reportedly reaching consensus in principle on bilateral economic and trade issues, though a final deal is still pending.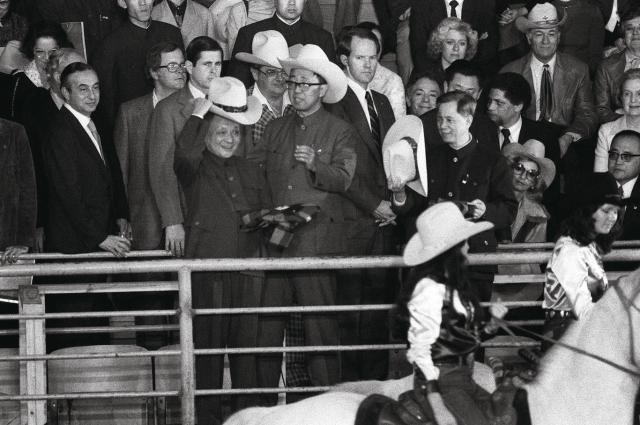 Shortly after China and the US established diplomatic relations in 1979, Chinese Vice-Premier Deng Xiaoping made a trip to the US between January 29 and February 5, 1979 at the invitation of US President Jimmy Carter, opening a new chapter for Sino-US relations. The visit came immediately after China started its reform and opening-up policy, showing China's determination to open to the outside world and its eagerness to learn from developed countries in aspects of science, technology, education and culture. As the first Chinese leader to visit the US after the two countries resumed official ties, Deng met Carter and a group of high-level politicians, visited a Ford assembly plant and NASA's Johnson Space Center, in Houston, Texas. During the historic trip, China and the US signed a series of cooperative agreements involving the economy, culture, science and technology.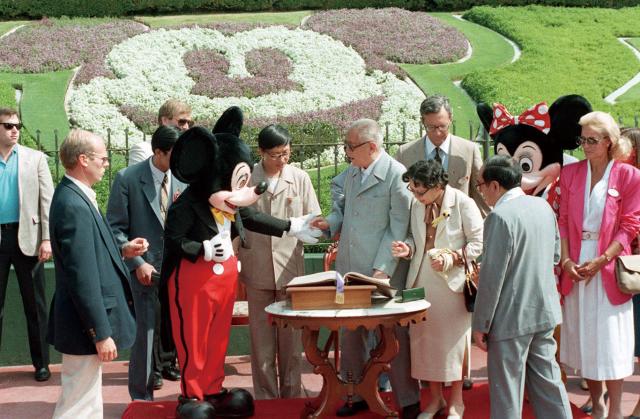 Shortly after China and the US established diplomatic ties in 1979, the two countries conducted frequent high-level mutual visits. From July 22 to 31, 1985, Chinese President Li Xiannian made an official visit to Washington DC, the first time a Chinese head of State had visited the US. During his stay, Li honored the opening of the new Chinese Consulate General in Chicago, visited the White House and Capitol Hill, and held talks with leading figures in many fields. Li and US President Ronald Reagan initiated a number of new cultural and educational exchange pacts and signed a fisheries agreement. A highlight of the visit was the signing of a Sino-US agreement on cooperation on the peaceful use of nuclear power. Li's visit significantly improved bilateral relations, consolidated mutual understanding and increased the friendship between the two peoples.
Chinese President Jiang Zemin made two state visits to the US in 1997 and 2002. During his 1997 visit at the invitation of US President Bill Clinton, the two sides issued the China-US Joint Statement, in which the US reiterated its adherence to the one-China policy and the principles set forth in the three Sino-US joint communiqués. Jiang's visit put an end to eight years of strained bilateral relations and outlined mutual ties for the 21st century. The two sides announced they would work together to build a constructive and strategic partnership for the new millennium.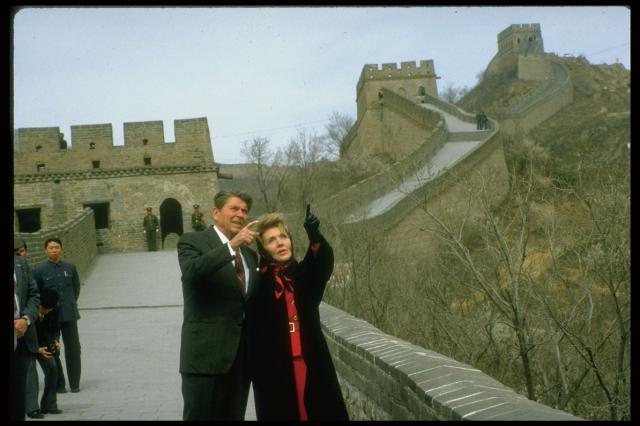 From April 26 to May 1, 1984, US President Ronald Reagan paid a State visit to China, the first US president to visit since the two countries established diplomatic relations in 1979. Reagan visited Beijing, Xi'an in Shaanxi Province and Shanghai. Reagan's trip highlighted his administration's desire to improve ties with China amid the growing international uncertainties. During the visit, Reagan signed tax and cultural pacts with China, and the two countries held talks on a nuclear cooperation agreement.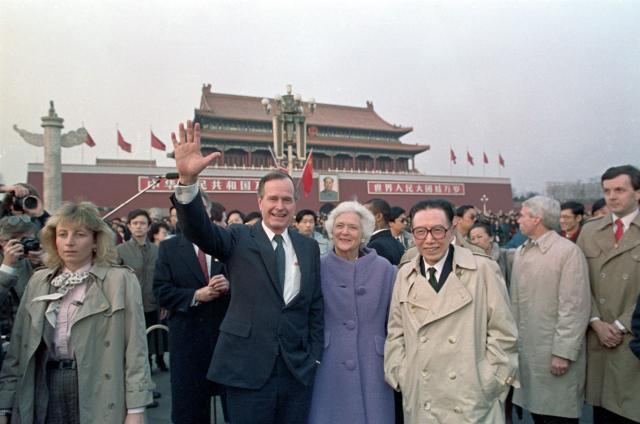 George H.W. Bush's bond with China started in the 1970s when he was appointed director of the US Liaison Office in China, arriving in Beijing with US Secretary of State Henry Kissinger on October 21, 1974. During his tenure, he met with Chairman Mao Zedong on two occasions. On February 25-26, 1989, one month after he assumed office, Bush visited Beijing to hold talks with Deng Xiaoping, who at the time was Chairman of the Central Military Committee of the People's Liberation Army. During the visit, Bush reaffirmed the one-China policy and the US's stance of a peaceful resolution of cross-Strait issues. The two sides exchanged views on global and regional strategies, military issues, disarmament and the roles of international organizations. Bush visited China 20 times altogether.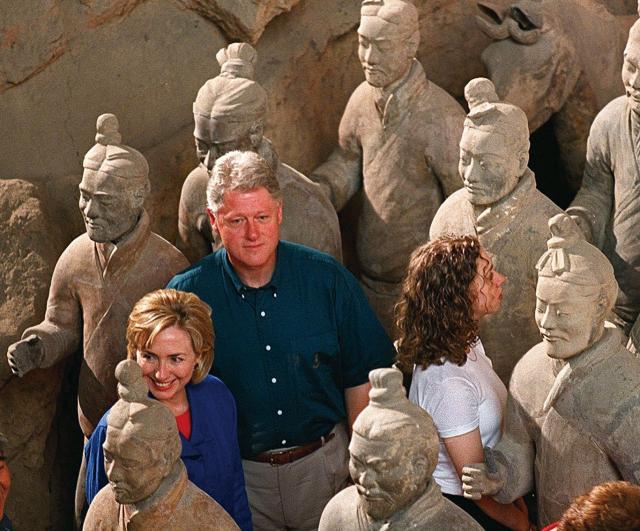 In connection with Chinese President Jiang Zemin's official visit to the US in 1997, US President Bill Clinton paid a State visit to China from June 25 to July 3, 1998. The US delegation consisted of over 1,200 members including the president's family, five members of the president's cabinet and six members of Congress. The two sides issued three joint statements on South Asia issues, the Biological Weapons Convention protocol and one on antipersonnel landmines. President Clinton delivered a speech to a large crowd of college students at Peking University. The fifth US President to visit China, Clinton also visited Xi'an, China's ancient capital, Guilin in Guangxi Zhuang Autonomous Region and Hong Kong.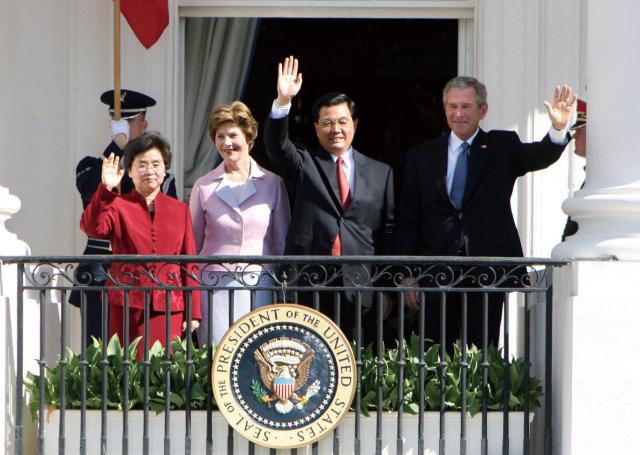 Chinese President Hu Jintao made a State visit to the US from April 18 to 21, 2006. Hu and US President George W. Bush agreed that the two countries have extensive and important common strategic interests and are both mutual stakeholders and constructive collaborators. They agreed that a sound bilateral relationship is of strategic significance for safeguarding and promoting peace, stability and prosperity in the Asia-Pacific region and the world at large. The two sides agreed to deal with the bilateral relations from the strategic and long-term perspective and push forward Sino-US constructive and cooperative relations for the 21st century.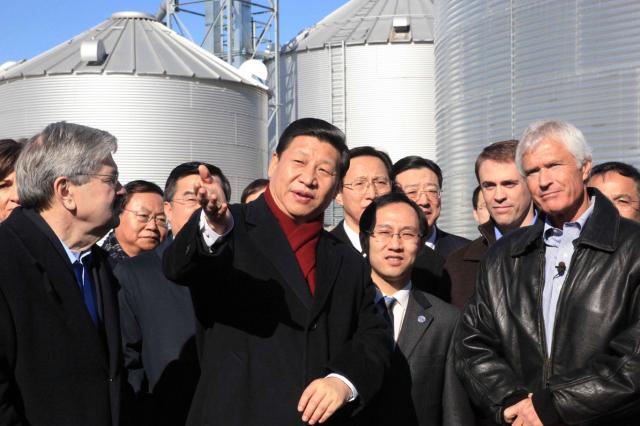 In February 2012, Chinese Vice-President Xi Jinping made an official visit to the US. He met with US President Barack Obama at the White House and held talks with US Vice-President Joe Biden and former Secretary of State Henry Kissinger. Xi proposed five suggestions for Sino-US relations, reiterating the importance of steady development of bilateral relations and mutual benefit on many occasions. The two sides released the Joint Fact Sheet on Strengthening China-US Economic Relations. The two countries vowed to promote the healthy and steady development of bilateral cooperation based on mutual respect and mutual benefit. Under the framework of the Economic Track of the China-US Strategic and Economic Dialogue, the two sides agreed to promote strong, sustainable and balanced growth, cross-border trade and investment, financial sector development, and strengthen international cooperation.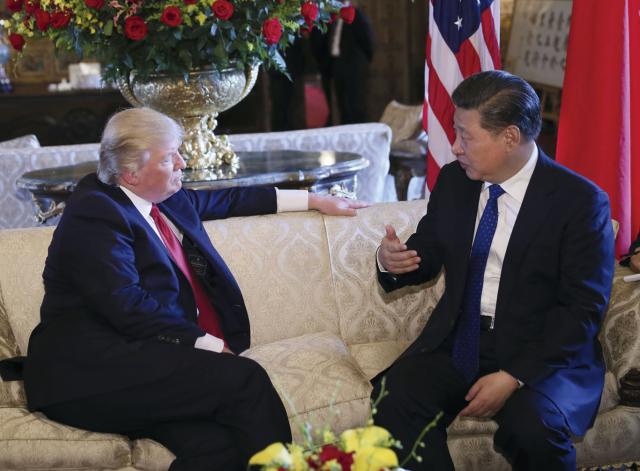 From April 6 to 7, 2017, Chinese President Xi Jinping made a State visit to the US and held talks with US President Donald Trump, the first time the two countries' top leaders had met since Trump assumed office. The two leaders exchanged views on the Korean Peninsula nuclear issue and the ongoing Sino-US economic frictions. The two sides enhanced mutual understanding and trust, reaffirmed the direction and principles for the development of Sino-US relations, pinpointed the priority areas of bilateral cooperation, established four high-level dialogue mechanisms and strengthened the communication and coordination mechanisms on international and regional affairs. Trump accepted an invitation from Xi to visit China before the end of 2017.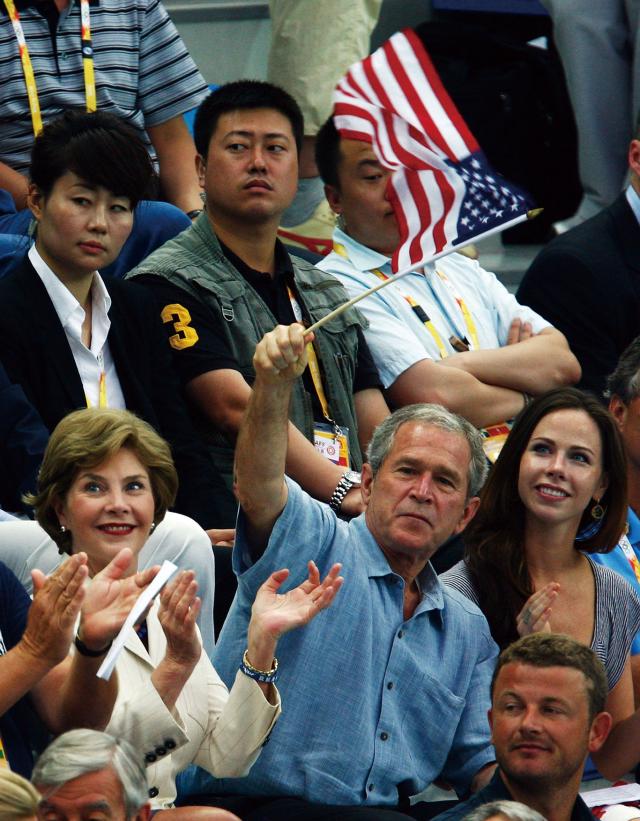 US President George W. Bush met with senior Chinese leaders a number of times since he assumed office in 2001. From August 7 to 11, 2008, he attended the opening ceremony and a number of events at the Beijing Olympic Games. Bush and his wife Laura, his father and former president George H.W. Bush attended a basketball game between China and the US in the company of Chinese Foreign Minister Yang Jiechi.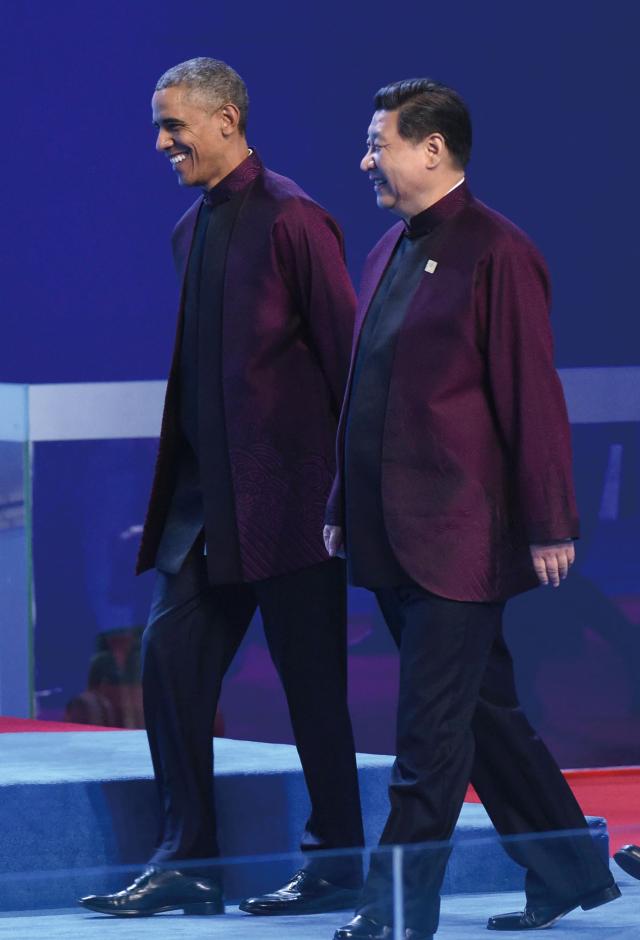 On November 10, 2014, US President Barack Obama arrived in Beijing to attend events for the Asia-Pacific Economic Cooperation (APEC) Leaders' Meeting, the first stop on his three-nation visit to China, Myanmar and Australia. Obama held talks with Chinese President Xi Jinping and they jointly affirmed their commitment to move Sino-US relations forward. Presidents Obama and Xi also announced new historic targets for reducing greenhouse gas emissions in the post-2020 period in which the US will reduce its net greenhouse gas emissions to 26-28 percent below 2005 levels by 2025. Xi announced that the country is aiming to peak its CO2 emissions by around 2030. China also committed to expand its share of non-fossil fuel energy to around 20 percent by 2030.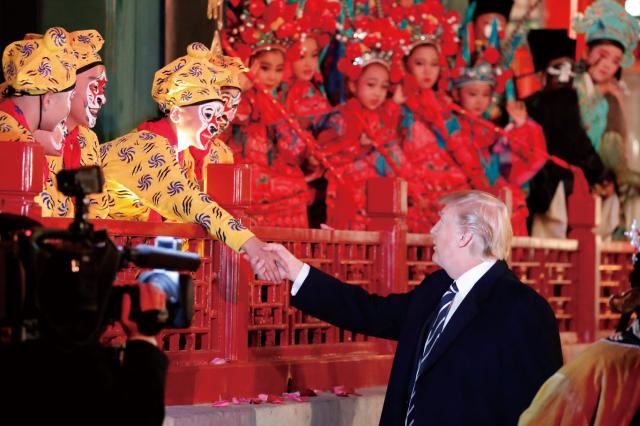 At the invitation of Chinese President Xi Jinping, US President Donald Trump made a three-day state visit to China on November 8, 2017. It was the first time Trump had visited China since he assumed office in early 2017. The two leaders agreed to expand cooperation in areas such as trade, the military, law enforcement and people-to-people exchanges. In addition, both sides agreed to strengthen communication and coordination on international issues, including the Korean Peninsula nuclear situation. According to statistics from China's Ministry of Commerce, 34 deals worth US$253.5 billion were signed by the two sides during Trump's stay in China, setting a record for China-US trade relations. Xi said that Sino-US relations were "at a new historical starting point."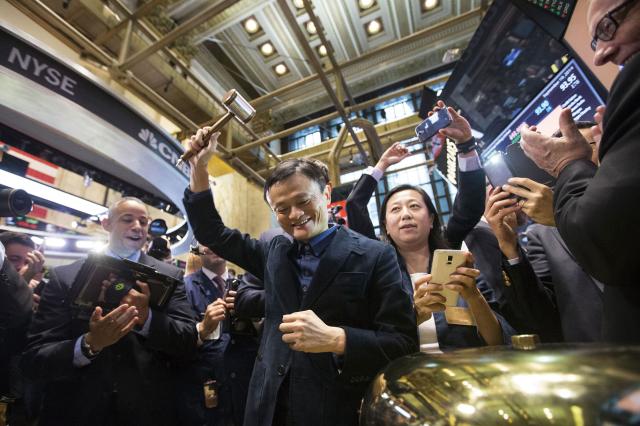 On the first day of trading at the New York Stock Exchange, shares in Chinese tech behemoth Alibaba surged by 38 percent from its IPO price at US$68 to US$92.7. More than 100 million shares were traded in the first 10 minutes, and 271 million shares changed hands on the first day. Alibaba finished its first day of trading with a valuation of US$231 billion, making the e-commerce company bigger than Facebook, Amazon or eBay. The enthusiasm of American shareholders reflected their recognition of Chinese private enterprises and confidence in the Chinese economy. The internet giant started by Jack Ma in an apartment in Hangzhou, Zhejiang Province in 1999 has developed into an international company that combines sales, merchandising and financial services in the two decades since, reaching every corner of the world. Its Alipay platform, founded in 2004, is now the world's largest online payment platform, boasting 400 million users. More than 213.5 billion yuan (US$31.6b) in transactions were made during the 10th annual Single's Day online shopping spree on its Tmall platform on November 11, 2018. The total market value of Alibaba has reached above US$432 billion, according to its latest financial report published on January 30, 2019.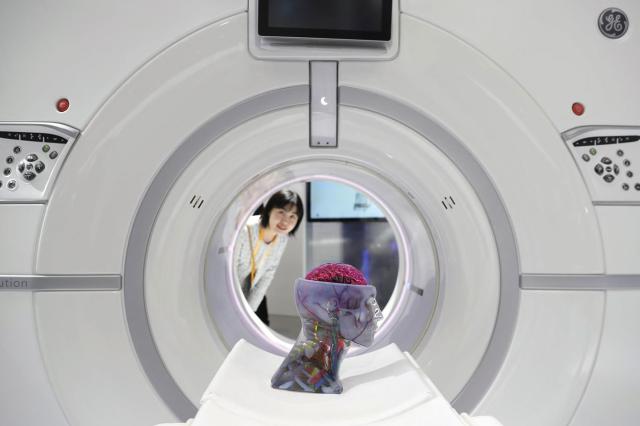 More than 180 US companies participated in the first China International Import Expo (CIIE) held from November 5-10, 2018, many of which were Fortune Global 500 companies. Exhibits from US enterprises were present in all seven display areas, including consumer electronics and home appliances, clothing, consumer goods, vehicles, intelligent and high-end equipment, food and farm products, medical instruments and the services industry. Companies including GE, Qualcomm and Whirlpool demonstrated their latest products at the expo. The CIIE signaled that China will further open to the world. Many representatives of US companies that participated said that they hoped it would be a platform to fully demonstrate their capabilities and further expand into the increasingly open Chinese market, according to a Xinhua News Agency report.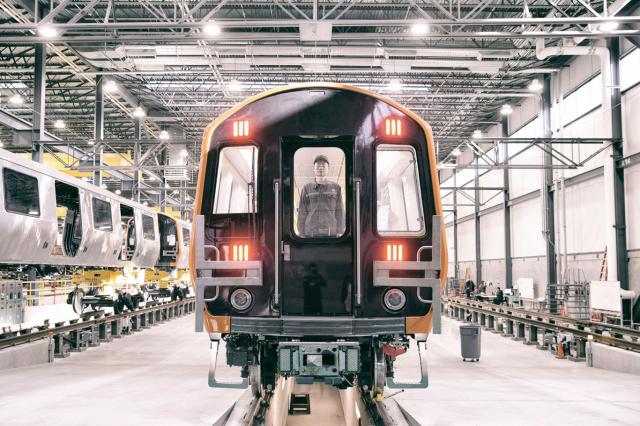 The delivery of the first two subway cars built by CRRC MA's factory in Springfield, Massachusetts was a milestone for Sino-US cooperation. In October 2014, CRRC and Boston's MBTA reached a contract under which CRRC MA, CRRC's first North American office in Massachusetts, would manufacture 404 subway cars, part of the upgrade to Boston's subway network. The cars were developed and produced in Changchun, Jilin Province and assembled and tested by local workers in CRRC's factory in Springfield. CRRC is the first Chinese railcar manufacturer to enter the US railcar production market. The factory in Springfield is CRRC's first manufacturing base in the US, employing more than 200 local workers.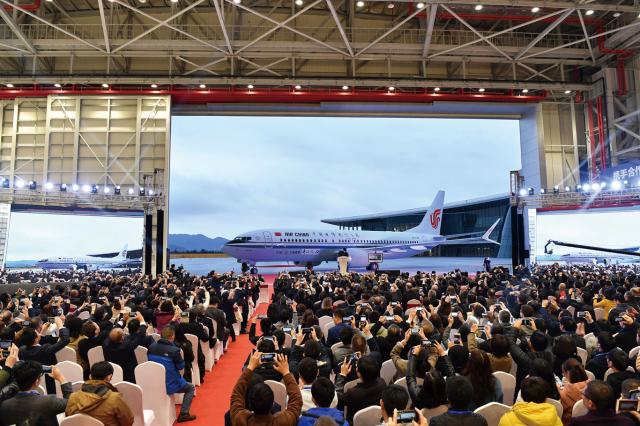 The delivery of the first of Boeing's 737 MAX 8 series to Air China marked the continuing cooperation between the US aerospace giant and its Chinese partner, the Commercial Aircraft Corporation of China, Ltd (COMAC), who put into operation their joint plant, the first such Boeing facility outside the US, earlier in 2018. The 737 MAX 8 was assembled at Boeing's Renton plant in Washington State, and was flown to Zhoushan, Zhejiang Province for completion. The plant is expected to finish up to 100 737 MAX planes annually designed for all carriers in China. In 1973, China purchased the first 10 Boeing 707 planes from the US, which kickstarted the cooperation between Boeing and China. In the past four decades, Boeing has delivered more than 2,000 aircraft to Chinese airlines – the second thousand took only five years. As a model of Sino-US cooperation in trade and economy, business between China and Boeing has witnessed the growth of Chinese airlines.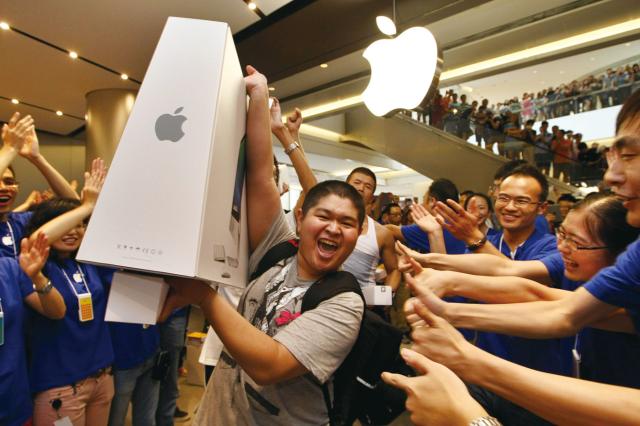 Since Apple opened its first store in the mainland in 2008, it has expanded rapidly based on its popularity among Chinese mobile phone users, with more than 40 Apple stores across China. Each new iPhone release would see enormous lines outside the stores, with people camping out overnight. For four years starting in 2012, it was China's top selling smartphone, beating out domestic rivals Huawei, OPPO, Vivo and Xiaomi, until it fell into second place in 2016. But its current patent litigation between Apple and Qualcomm and questions over its high price are weakening the tech giant's competitiveness in China.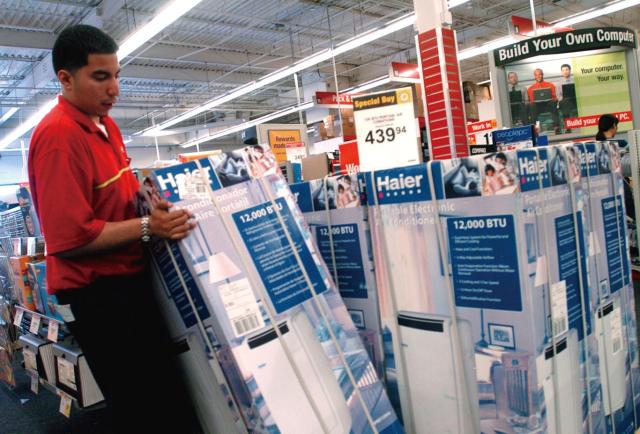 Haier, one of the top suppliers of white goods and home appliances, entered the US market in 1999, and produced its first refrigerator in its American factory in 2000. It has developed into a leading brand in the US in the past 20 years. Unlike some Chinese enterprises that pursue short-term gains in overseas markets, Haier has been focusing on brand building since the beginning of its international expansion and has won market in the US with its solid quality and highly customized or localized products, a demonstration of its differentiation strategy. Haier's management experience has drawn attention from enterprise researchers in the US. In 1998, Haier was held up as a model by the Harvard Business School which focused on Haier's innovation in enterprise culture. Zhang Ruimin, CEO of Haier, was the first Chinese entrepreneur to  
deliver a lecture at Harvard. In 2016, Qingdao Haier, in which Haier Group holds a 41 percent share, acquired an appliance division of General Electric (GE), and further expanded its market in the US.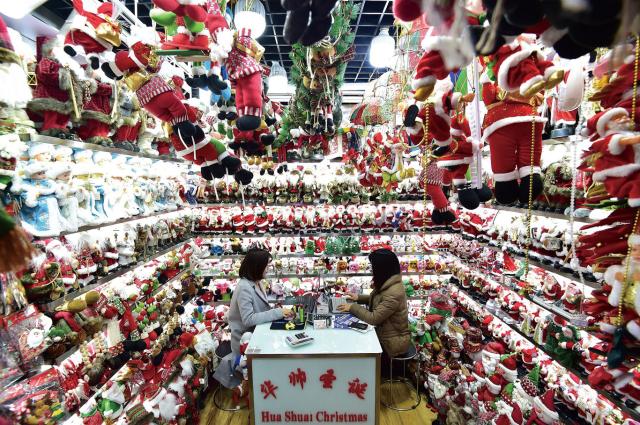 An important distribution center for commodities sold worldwide, Yiwu in East China's Zhejiang Province is often seen as a barometer for international situations. Ji Dongchu, a merchant from Yiwu who focuses on swimwear, relies on the US for 60 percent of its export business. He told Chinese media outlet Global Times that in 2018, his orders from the US dropped by 30-40 percent from the previous year mainly due to the uncertainties caused by the Sino-US trade war, even though swimwear was not on the tariff list. The trade woes also affected other products like Christmas decorations. Yiwu produces two-thirds of the world's Christmas decorations.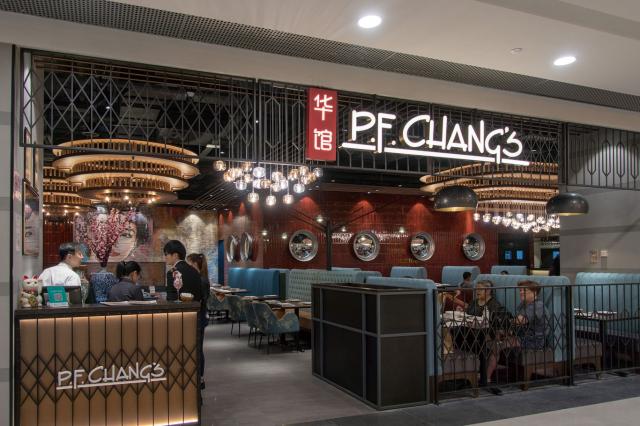 P.F. Chang's, which started in an Arizona mall in 1993, is regarded as an example of cultural integration between China and the US. The chain now has more than 200 restaurants across the US and over 100 in 25 countries. Inspiration for the restaurant came from the Mandarin Restaurant, opened in 1961 by Cecilia Chiang in San Francisco. Chiang is regarded as introducing the US to a more authentic version of Chinese cuisine, which helped change the negative image of Chinese food in the US at that time. P.F. Chang's was started by Cecilia Chiang's son Philip Chiang and his partner Paul Fleming.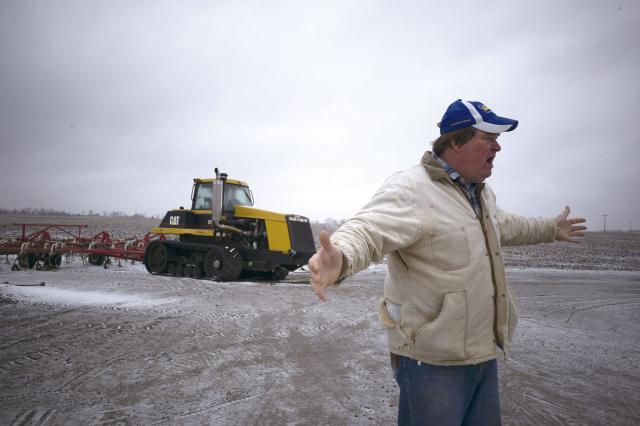 US President Donald Trump signed a memorandum on March 23, 2018, imposing tariffs of up to US$60 billion on Chinese imports, sparking trade frictions between the two countries. In response, China imposed tariffs on US$50 billion worth of US imports, including a 25 percent tariff on American soybeans. Soybeans have been a major agricultural export to China, but the trade war caused a dramatic drop in the soybean trade in 2018. According to statistics from the General Administration of Customs of China, China imported 95.5 million tons of soybeans in 2017, with 29 percent from the US. In 2018, the total number dropped to 88 million, a decrease of 7.9 percent, the first drop since 2011. Meanwhile, soybean imports from the US declined sharply. The volume of soybean imports from the US decreased to zero in November 2018.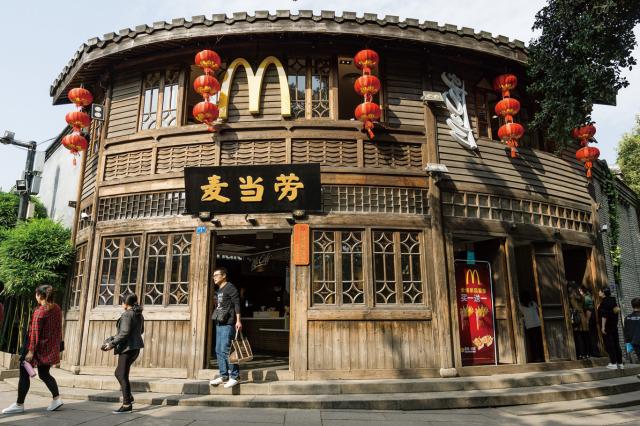 As the two most successful American fast food companies in China, KFC and McDonald's have expanded their Chinese market rapidly in the past three decades. By 2015, KFC had opened more than 5,000 restaurants across China. McDonald's, which opened its first restaurant in Shenzhen in 1990, had opened more than 2,800 restaurants by July 2018, employing more than 150,000 workers. The spread of fast food restaurants across China has long grown from a novelty to an inseparable part of Chinese life.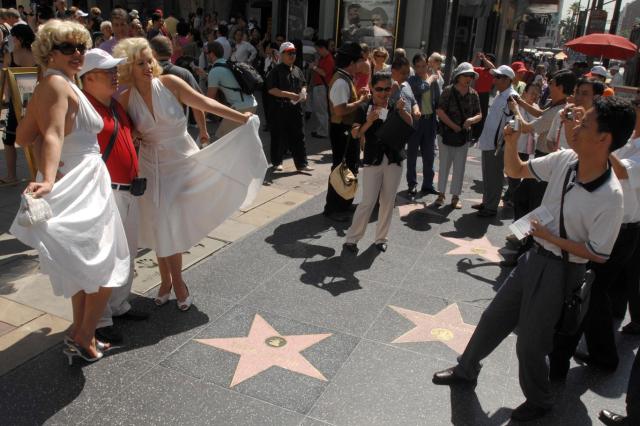 In December 2007, Chinese and US tourism authorities signed a memorandum of understanding, which allowed Chinese to travel to the US in tour groups. Trips commenced from June 17, 2008. The number of inbound Chinese tourists to the US has grown steadily ever since, and China is one of the largest sources of inbound tourists to the US. The number of Chinese tourists to the US increased from 710,000 in 2007 to 2.67 million in 2015, and the number of people to and from the two sides reached over 30 million in the past 10 years, as the then China National Tourism Administration revealed at a tourism forum in 2016.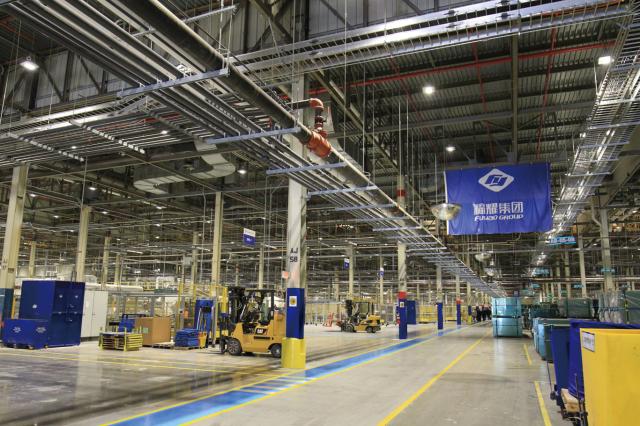 Fuyao Glass Industry Group, the largest manufacturer of automotive glass in China, was founded in Fuzhou, Fujian Province in 1987. Fuyao Group opened its US plant in the former GM Moraine plant in Ohio, the world's largest auto glass manufacturing plant, in October 2016, bringing more than 2,000 jobs to the local area. More Chinese companies are investing abroad. From 2000 to 2014, Chinese firms made investments worth nearly US$46 billion in the US, according to a report published in 2015 by the Rhodium Group, bringing more than 80,000 jobs to the country. Chinese companies also spend billions of dollars annually on research and development and staff training. The report predicted that China's investment in the US would reach US$100-200 billion by 2020.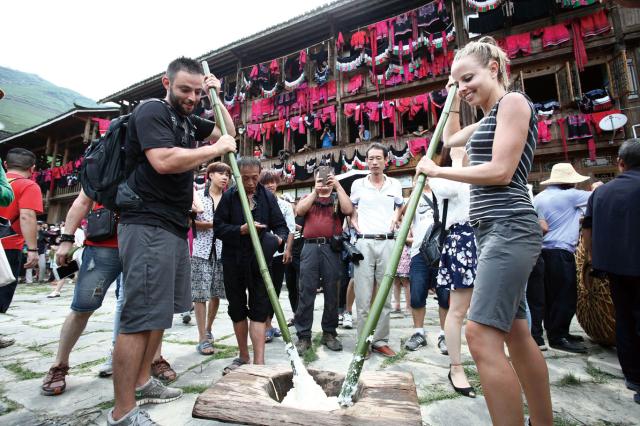 In November 1981, 17 American tourists, the first to come to China after it established diplomatic relations with the US, arrived in Nanjing, Jiangsu Province via Hong Kong. Since then, the number of tourists from the US has continued to grow. The number of American tourists to China surged particularly after 2014, when China started offering 10-year tourist visas to Americans, which has greatly boosted bilateral trade and tourism.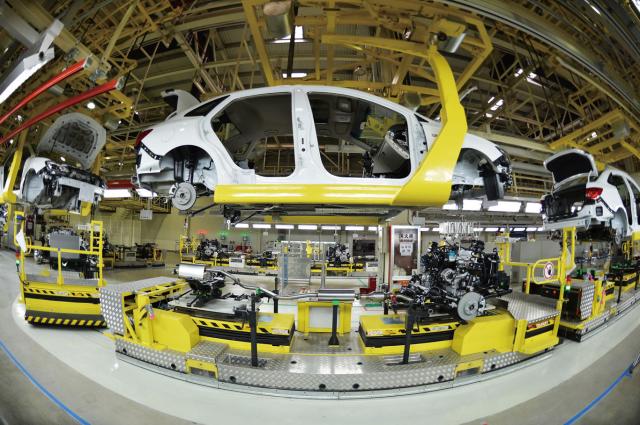 The SAIC General Motors Corporation Limited (SAIC-GM) branch in Wuhan is one of the four manufacturing bases of SAIC-GM besides those in Shanghai, Yantai in Shandong Province and Shenyang, Liaoning Province. The completion of the Wuhan base marked a further step in SAIC-GM's strategic rollout from China's coastal regions toward the interior. The company is a joint venture between General Motors Company and SAIC started in June 1997 with 50 percent investment from each partner. It was the largest Sino-US joint project at that time. SAIC-GM has developed into a leading vehicle manufacturer in China. Its main brands include Buick, Cadillac and Chevrolet. A model Sino-US joint venture, SAIC-GM has been constantly engaged in innovation and exploration. Its annual sales climbed from 20,000 units in 1999 to 1.97 million (including 158,096 export units) in 2018.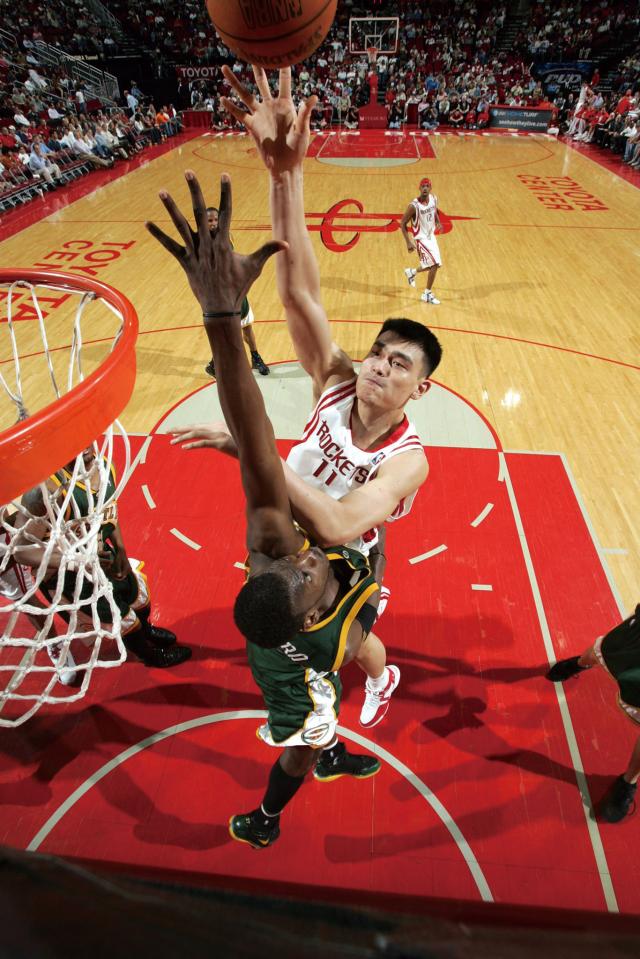 Yao Ming, the eight-time NBA All-Star Game player and five-time All-NBA Team member, was inducted into the Hall of Fame together with Shaquille O'Neal and Allen Iverson on September 9, 2016, becoming the only Chinese person to receive the honor. On February 3, 2017, the legendary center's Number 11 jersey was also retired by the Houston Rockets where he spent his entire NBA career from 2002 to 2011, averaging 19 points, 9.2 rebounds and 1.9 blocks. Yao, now president of the Chinese Basketball Association (CBA), has been the most successful and influential Chinese player on the NBA courts, as well as played a unique role in bridging the social and cultural gap between the two countries.
Yao Ming shoots over Johan Petro of the Seattle SuperSonics at the Toyota Center in Houston, March 29, 2006