An expansion of adult guardianships is enabling the elderly, spouses and LGBT couples in China to better protect their rights and interests. However, loopholes leave these groups vulnerable to legal risks
O
n August 7, Beijing Guoxin Notary Office announced on Sina Weibo it had notarized Beijing's first adult guardianship for an LGBT couple. The post created a stir on social media. LGBT blog "Light Blue LGBT Information" called it "a customized gift" to the LGBT population.  
Many believe adult guardianship – which allows an adult to appoint another as a primary guardian – provides LGBT couples with an effective way to protect their rights and interests on the Chinese mainland, which does not legally recognize same-sex marriage.  
Originally, Chinese lawmakers intended for adult guardianship, also known as intentional guardianship, to protect the elderly in cases of incapacity due to injury or aging.  
Issued in 2015, the law enabled Chinese above 60 to appoint any adult as their primary guardian. It was expanded to cover all adults in the General Provisions of the Civil Law of 2017. According to the new provision, guardians are authorized to make vital decisions on legal issues such as medical treatment and property settlements.  
The law caught the public eye with the case of Fang Min, a woman who lives with ALS in Hangzhou, Zhejiang Province. Fang named her parents as her primary guardians after her husband refused to sell one of their apartments to pay for her treatment.  
Fou Ge, a woman who lives with her partner in Changsha, Hunan Province, praised the addition of adult guardianship to China's Civil Law. Fou said she was concerned that her partner of 10 years, Xiao Si, would otherwise have no legal right to sign for her medical treatments.  
"The new provision caters to populations in urgent need of adult guardians, such as the elderly, elders living alone and married couples... Anyone who foresees risks can reduce them by appointing a trusted guardian," Zhu Xiaozhe, a law professor at the Shanghai University of Finance and Economy, told The Beijing News. 
Meeting Demand
According to Fou, she signed a legal document that authorized Xiao to sign on her behalf in case of a medical emergency. However, Fou said a simple medical authorization could not cover all the bases, such as selling Fou's property to pay for treatment, the power to make decisions on follow-up treatment and how to support Fou in her old age.  
Fou said she found a solution at her local notary office, where she learned that adult guardianship is not limited to the elderly but extends to all adults. She enlisted notary Yu Rong to appoint Fou and Xiao as each other's guardians. 
Fou defined her relationship to Xiao as "close friends doing business together."  
"If I have a child one day, I want my trusted friend to decide for me whether I should have a caesarean," Fou told Yu at the time.  
Yu, who had previously notarized both their wills and a property co-ownership agreement, sensed Fou and Xiao were more than close friends but did not let her suspicions affect her work.  
"They are no different than other clients. As long as their requests are true and conform to the laws and they trust each other, I would have no reason to reject the case," she told NewsChina. 
Since Yu has never notarized an adult guardianship for an LGBT couple, she referenced an adult guardianship agreement for the elderly.  
Fou, however, was not satisfied with some of the clauses. For example, she asked to revise the article that forbade guardians from making medical decisions without official proof that their partner is incapacitated. According to Yu, this article was included in most adult guardian agreements to protect against fraud.  
Fou worried that the article would delay her treatment, since it takes time to obtain the necessary certificates. She and Xiao instead amended the article to require a doctor's diagnosis of incapacity, such as a coma. 
According to Yu, LGBT couples have different concerns about the power of guardianship. "The elderly care more about how they would be supported late in life and how their property would be dealt with, while younger LGBT couples care more about whether they'll receive full and thorough medical treatment if they get a serious disease. So compared to the elderly, they are more willing to authorize their guardians to sell their property to pay for medical treatment," Yu said to NewsChina.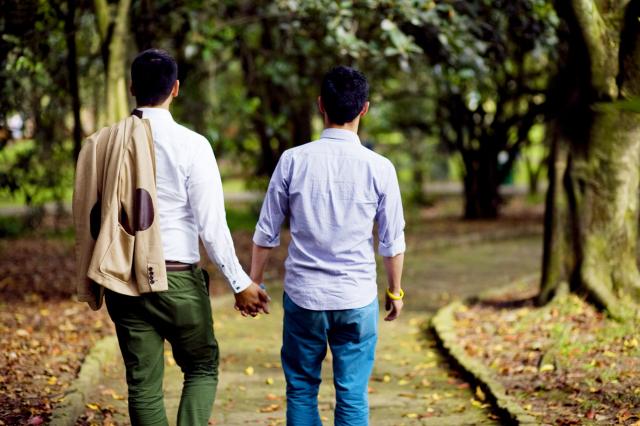 Adult guardianship gives LGBT couples a way to protect their rights and interests
Third-party Problems
These differences can come with conditions. For example, Fou's friend, who identified herself as Claire, had a dispute with her notary over whether she needed a third-party supervisor.  
"My notary told me that it is safer to appoint a supervisor if I want to authorize my partner to deal with my property... And, they would not accept the case if I refuse the request," Claire told NewsChina. She finally had to appoint another friend as her partner's supervisor, but she and Fou called the condition discriminatory.  
"Why don't marriage certificates require couples to appoint supervisors?" Fou said. Supervisors are not mandatory, according to the Civil Law. Claire said notaries should respect their clients' wishes. 
Yu said that she has suggested some clients appoint supervisors in the past, but never forced the issue.  
Li Xia, director of the Research Center of the Marriage and Family-related Laws, East China University of Political Science and Law, told NewsChina that a notary office has no right to require a supervisor. "As long as the trustor and appointed guardian are capable adults, a notary office should only handle legal certification," she told NewsChina. As a notary at Shanghai Putuo Notary Office, Li Chengyang has handled more than 300 adult guardianships. He said that fewer than 10 percent appoint a supervisor. 
"It is harder to find a supervisor than find a guardian," he told NewsChina. "Furthermore, adult guardianship is based on mutual trust and a guardian may feel slighted if the trustor appoints a supervisor."  
But unsupervized guardianships come with risks, Li said, particularly when it comes to selling property. For example, the guardian may embezzle the money. Or in case of divorce, the trustor's money could be regarded as a shared asset. 
To reduce risk, Li suggested adding restrictive clauses that would require guardians to sell their trustor's real estate under supervision of the notary office. This could include holding the funds in escrow and only allowing access with the proper invoices. 
Both Claire and Fou, however, argued this would not only increase the economic burden but also create red tape that could delay payment for crucial treatment. 
Not the End 
Following the Beijing Guoxin Notary Office's handling of adult guardianship for an LGBT couple, many saw the agreement as an equivalent to a marriage certificate.  
But notaries warned there are big differences. Li Chengyang revealed to The Beijing News that a guardianship he handled had run into difficulties when dealing with the trustor's inheritance.  According to the law, a guardian cannot legally inherit assets from a trustor. Furthermore, adult guardianship does not cover the social welfare a marriage certificate endows, such as maternity leave.  
Li Xin, an associate law professor at Jiangnan University, told Southern People Weekly magazine that adult guardianship is neither an equivalent to marriage nor a legal recognition of same-sex couples. 
Fou agreed. After a comparison, she found that a guardianship agreement covers less than 20 percent of the rights and interests empowered by a marriage certificate.  
Yet Fou believes the guardianship has enhanced her relationship with Xiao.  
"In the past, we showed our love simply by saying 'I love you,' but a notarized guardianship is much more practical. It means that I have entrusted my partner with my life," she told NewsChina.  
But experts and notaries warn that such wholehearted trust comes with potential
legal risks in many cases in the future.  
China's Civil Law states that if a guardian neglects their duty or impairs the interests of their trustor, other people or organizations deemed legally qualified could appeal to revoke the guardianship.  
But Li Chengyang called this too little too late and said a notary office should bear the responsibility of taking preventative measures and suggested that restrictive clauses come standard in guardianships. 
As one of the experts that introduced and promoted adult guardianship in China, Li Xia worries about their overuse.  
"China's adult guardianship is in its preliminary stages and many problems have yet to come up. For example, a guardian might abuse the trustor or make decisions against their will," she said. 
Experts echoed these concerns. A 2018 paper published by Lu Wenmin at Shanghai Normal University, for example, warned that China's adult guardianships lack public supervision, which could make it difficult for a trustor to receive government relief if their guardian acts against their interests.  
Another paper published by Tan Yuanchun and Wang Wanchun from Guizhou University of Finance and Economics the same year called on lawmakers to amend the legal provisions of adult guardianship, especially the registration, supervision and detailed rights of guardians.  
"Taiwan passed an act on adult guardianship in 2018 that includes six provisions. Japan's has 12 provisions. But the Chinese mainland has one provision... There is a lot of room for us to improve adult guardianships," Li Xia told NewsChina.