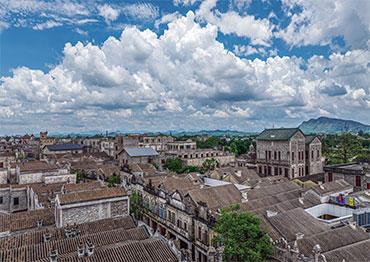 A view of diaolou in Kaiping, Jiangmen, Guangdong Province, May 26, 2023 (Photo by VCG)
M
odern China is full of cultural curiosities that have emerged as ancient traditions meet modern and Western influences. Ancient temples sit alongside soaring skyscrapers, while adjacent entertainment venues host Chinese opera and Hollywood blockbusters. However, it would be a mistake to think that the convergence of Chinese and Western cultures is a new phenomenon. China has been actively engaged with the Western world for hundreds of years, and the diverse cultures have been influencing each other ever since. In many places around the world, Chinese culture is visible in the culturally rich Chinatowns that emerged in many trading cities. For example, in the British city of Liverpool, the Chinatown community traces its roots back to 1834.
Over the centuries large numbers of Chinese people emigrated to such Chinatowns and developed fusion cultures. In the opposite direction, large numbers of Chinese emigrees decided to return to China and their hometowns. When they arrived, they brought with them new wealth, new cultures and new ideas. These influences helped to create new urban landscapes that were neither entirely foreign, nor entirely Chinese. Indeed, they developed their own unique cultures. Kaiping is one of the most famous examples of a region shaped by returning Chinese emigrees. It is a unique and fascinating destination for visitors, as attested by UNESCO which designated it as the Kaiping Diaolou and Villages World Heritage Site in 2007. The World Heritage site covers four separate Kaiping village areas, Sanmenli, Zilicun, Jinjiangli and Majianglong, each of which is worth visiting.  
The origin of Kaiping is closely connected to the emergence of maritime trade along the Tanjiang River. Kaiping is centred around the town of Chikan. Chikan's history has been predominantly shaped by two competing local clans. These clans are known as the Situ and the Guan. Rivalry between the clans led to the development of beautiful building projects, including town squares and libraries, mostly between the late 1800s to the 1930s. As the two clans sought to out-do each other, they increasingly relied on support from oversees clan members, leading to increasing Western influence in designs and ideas, such as the incorporation of giant clocks atop public buildings. However, unlike the former foreign concessions in cities like Shanghai, which were developed by foreign nations, Kaiping was developed with a strong focus on defense and security.  
Kaiping's modern development occurred during an unstable and politically insecure era. Times were especially challenging during the warlord era of the 1920s and 1930s. As a result, Kaiping includes over 1,000 buildings known as diaolou. These buildings are essentially fortified watchtowers made from reinforced concrete, built to include living quarters as well as serving as defensive structures. As times became more challenging for citizens who remained in Kaiping, overseas Chinese increasingly funded the construction of diaolou to protect their extended families and communities. Some served just one family, while others served entire villages. Today many of these fortifications remain in remarkable condition, although others have fallen into disrepair. However, in both instances they contribute a fascinating backdrop to Kaiping, which ensures that it is an utterly unique destination for visitors.
The best-preserved area of Kaiping is Chikan Old Town, largely thanks to a 6 billion yuan (US$8.4m) renovation project started in 2017. While the extensive renovation has ensured that Chikan receives large numbers of tourists, it is nevertheless authentic and intriguing. The town is accessed through a tourist welcome center, which can be busy, but after entering the town itself it is easy to find quiet and peaceful spaces in which to relax and absorb the history. Indeed, Chikan is a complete and functioning town, where thousands of people still live. There are plenty of shops, cafes, and restaurants, as well as tourist hotels and other amenities. However, unlike most Chinese towns, there is a distinct international flavor to almost everything. For example, Chikan's restaurants include a French-style boulangerie, and a pizzeria with a traditional pizza oven. Moreover, as one meanders slowly through the narrow streets, sheltering under archways to escape the midday sun, one is very likely to encounter a European-style historical tram.  
However, a visit to Chikan only reveals one side of Kaiping. Chikan portrays Kaiping's clean and well-manicured public face, complete with make-up and a fair amount of cosmetic surgery. To develop a deeper understanding of Kaiping, it is well worth visiting some of the less popular areas of the city. The true story of Kaiping is one of faded glory and grandeur. It was a magnificent city of extensive merchant wealth, where international cultures blended with traditional Chinese community values. However, it was also a city surrounded by dangers and risk, and it has witnessed over a century of upheaval and turmoil.
The village of Tangkou is a perfect example of the faded grandeur that is in many ways an even more accurate representation of Kaiping. Tangkou continues life as a sleepy, relaxing village where the descendants of Chinese emigrees now use their diaolou for the storage of farm equipment. Tangkou includes hundreds of historic buildings that are in various states of disrepair. Some of them are still lived in, while other formerly magnificent architectural specimens are now completely overgrown with weeds, vines, and invasive trees. Tangkou is home to a small number of hostels and cafes, where more adventurous tourists hire bicycles to cycle through the countryside for up-close access to Kaiping's history. Unlike Chikan, it is easy for visitors to find themselves completely alone adjacent to an abandoned diaolou or another historical building.  
Even without renting a bicycle, it is possible for visitors to explore the countryside of Kaiping by gently walking the footpaths in and around Tangkou – although it may be best to avoid the hot and humid summer days for the cooler winter. One path runs adjacent to the water, where the riverbanks still host the crumbling remains of historical wooden trading ships. Another path leads through fields of tall grasses, which largely disguise an abandoned shrine, before reaching a tiny hamlet, where a handful of lived-in houses shelter in the shadows of dilapidated historical grandeur. It is fascinating to observe the time-worn residents of such villages, playing mahjong under trees next to sleepy cats, while the tall reedbeds bristle with wildlife.  
It is hard to imagine that these same buildings once represented the pinnacle of modernity in China, and their residents once represented the personification of wealth and privilege. To witness Tangkou now is to see the results of a century of social and political upheaval, which has dramatically changed the fortunes of China and its relationship with other countries. Sadly, despite China's modern resurgence, the future of villages such as Tangkou is unclear. While possible renovation projects offer a chance of increased tourism, the noticeable lack of young people, or even working aged people, implies a real demographic risk to the continued survival of the Kaiping villages as truly vibrant living communities.
A diaolou in Chikan Old Town, Guangdong Province, June 10, 2023 (Photo by Michael Jones)