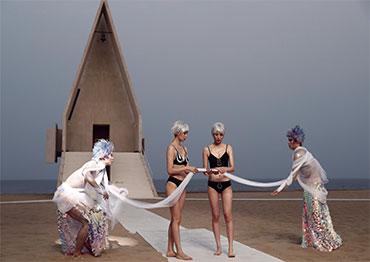 2. Models appear during Pierre Cardin's spring-summer 2020 fashion show held at Aranya Gold Coast, Beidaihe New District, Qinhuangdao, Hebei Province, September 5, 2019
I
n December 1978, a stylish French man in a black wool coat and a long scarf strode down a Beijing street, attracting attention from passersby. Unbeknown to them, that man was Pierre Cardin, who would start a fashion storm in China that forever changed the aesthetic consciousness of Mao-suited people across the country.  
In March 1979, shortly after China adopted its reform and opening-up policy, Pierre Cardin held a fashion show at Beijing National Culture Palace, the first Western designer to do so on the Chinese mainland. He was also among the first to introduce a Western fashion brand to the Chinese market. In 1985, Cardin invited 12 Chinese models to a Paris fashion show - the first time models from the People's Republic of China appeared on the international fashion stage. Cardin held many fashion shows in China since.  
Cardin's influence in China went beyond fashion. In 1983, he opened a branch of famed Paris restaurant Maxim's in Beijing, giving the city one if its earliest tastes of French fine dining. Maxim's has since expanded to Shanghai, Tianjin and Hefei.  
The fashion mogul passed away in December 2020 at the age of 98. Chinese netizens mourned his death online, expressing their reverence and gratitude to the legendary designer for enlightening Chinese people's perceptions of style and beauty and helping the country embrace global fashion.