Take the waters as you relax in one of China's hot spring resorts, whether in the center of a busy city or in a natural geothermal landscape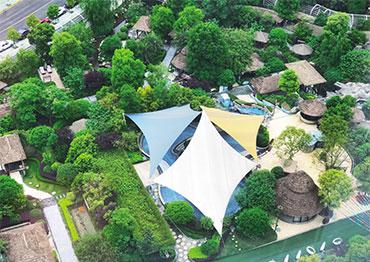 An overview of Shulechi Hot Spring Leisure Park, Chengdu, Sichuan Province (Photo by Michael Jones)
O
ne of the greatest pleasures of living or traveling in China is the abundance of hot spring resorts. Many of these resorts contain hot springs that are fed by naturally heated water, rising from geothermal vents below. Hot spring resorts come in many shapes and sizes, and they exist in almost every context, from the central business district of Beijing to tiny villages nestled in the remote mountains of Tibet. Hot springs are everywhere, and their variations tell you a lot about local areas and modern China in general. Here are some of the best.
Biquan Kongzhong Hot Spring
Conghua District in Guangzhou, Guangdong Province is famous for hot spring resorts, but they vary considerably in quality. Biquan Kongzhong Hot Spring is regarded as one of the best. It is located on the roof of a hotel building with a fabulous view of forests, mountains and a river. The resort features a broad range of pool temperatures, including delightfully warm scented pools for relaxation and two gently warmed pools for swimming in. Unusually for hot spring resorts, Biquan Kongzhong includes a free fish pedicure pool, and a variety of bubbling options within certain pools, ranging from a gentle whirlpool to fierce massage jets. Due to the hotel nature of the resort, there is also a level of service that is not common in other hot spring resorts, with staff regularly bringing guests water or tea for free, and other drinks, including beer, for a very reasonable price.
Enping Jinjiang Hot Spring
Enping Jinjiang Hot Spring in Enping, Guangdong is located within an area of major geothermal activity. In the center of the park there is a deep well linked to an underground hot water source. The management pride themselves on lowering fresh eggs into the well for them to emerge hard boiled. This ensures the pools within the park are always piping hot, without needing any artificial heating. The park is large and contains a good variety of activities in addition to the hot springs, such as an ice-cold cave and a lazy river. A large area of the park is dedicated to family-friendly water fun, and so it is not as peaceful as some other hot spring parks. However, there is a garden area with small fragranced pools designed for privacy and relaxation. The unique selling point of the resort is the ability to rent small individual chalets overnight. Each chalet has its own large hot spring pool within a secluded garden. You have complete control over the desired temperature and can buy fragrant bags of herbs to add to the water if you wish.
Shulechi Hot Spring Leisure Park
Shulechi Hot Spring Leisure Park is a garden-based hot spring resort tucked away behind a major hotel in the center of business area of Wenjiang District, Chengdu city, Sichuan Province. There are two large pools on a raised level, one of which is gently heated, while the other is cold and purely for swimming. The large garden features dozens of small pools tucked away behind rocks and hedges, to preserve a fabulous sense of privacy and tranquillity. The natural plants, flowers and the open sky above certainly add a serenity that is slightly lost when visiting indoor hot spring resorts. This is even more remarkable when one considers that this resort is centrally located within the an urban district of Chengdu. While other hot spring resorts are located in more tranquil settings, they are considerably less convenient to reach. For a city center location, it is hard to imagine anything more serene. There are also excellent provisions in the way of food and refreshments, allowing visitors to stay and relax the whole day if they wish.
Shengtai New Century Resort
This hot spring park is primarily contained within a very large glass dome, adjacent to the beach of Beidaihe, Hebei Province. The indoor pool area has been extensively decorated with mature tropical trees, creating a wild jungle appearance. The trees help to add a sense of privacy to each of the pools. There are also a few outdoor pools benefiting from views of the open ocean. Sadly, during the depths of winter, the resort seems to close all but one of their outdoor hot springs. For many a foreign tourist, nothing seems more appealing than skipping through the icy winds to submerge into serene, hot and fragrant waters, while breathing in fresh oxygen and gazing out upon an uninterrupted view of the adjacent beach and the lapping waves just meters beyond. Unfortunately, for many local people, it seems that appeal is lost. Nevertheless, the resort offers an excellent opportunity to relax after a long day hiking along the coast.
Grand Metropark Longxi Conference Center Hot Springs
Directly adjacent to Grand Metropark Longxi Conference Center in Daxing District, Beijing is one of the largest indoor hot spring resorts in China. Encompassed by a glass roof, it is filled with tropical trees to give the impression of a rainforest. There is a large cool swimming pool, shaped like a wild lake, surrounded by hot springs. In small rooms to the side there is a free salt-bath center, more hot springs, a cafeteria, and spa treatments. One feature are the hot springs that contain whole fruits bobbing around at the surface, including one pool containing apples, and another containing grapefruits. This makes a change from the usual "big tea bags" that are normally used to give the pools their scent. Perhaps the nicest feature is that several of the hot spring pools are almost entirely hidden by huge rock features, giving an immense sense of privacy and splendid isolation, which is difficult to achieve anywhere in Beijing. On special occasions they turn the children's pool into a mayhem of bubbles, which might detract a little from the relaxation of adults in adjacent pools, but is awfully fun to watch.
Jiuhua Spa and Resort
Jiuhua Spa and Resort is one of the most famous hot spring resorts in Beijing, in part due to the location's history and connections to the imperial household of the Qing dynasty. It is also a lot cheaper than many of the other hot spring resorts. The resort, located in Changping District, contains numerous indoor springs, but the highlights are the outdoor springs surrounding the swimming pool. The resort is designed to look like the inside of a traditional Chinese temple or palace. However, the architectural tranquillity is juxtaposed by the cinema-sized screen playing children's cartoons on full volume. The very notion of watching cartoon cars racing around a track seems rather at odds with the idea of relaxing within a hot spring. Mind you, at least 80 percent of the attendees are so transfixed by their mobile phones that they might not notice the gigantic screen.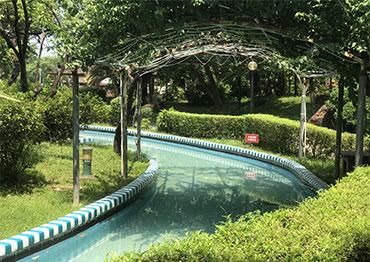 The lazy river at Enping Jinjiang Hot Spring Resort, Enping, Guangdong Province (Photo by Michael Jones)