Once officially banned and condemned by the public, esports in China have since boomed, earning a place as a recognized athletic sport
W
ang "Baolan" Liuyi's underdog story starts almost as a cliche: quiet and introverted, his love for video games had made him a social outcast. He eventually dropped out of school.  
But on November 3, 2018, Baolan had his dramatic moment of vindication moment. He helped lead Chinese esports club Invictus Gaming (IG) to victory at the 2018 League of Legends (LOL) World Championship in Incheon, South Korea.  
It was a crushing win: IG swept European club Fnatic 3 to 0, marking the first time a club from China's LOL Pro League took the title in the championship's eight-year history. 
News of IG's victory immeditaly exploded across Chinese social media, with related reports and livestreams garnering billions of views across medial platforms worldwide.  
It was also a red-letter day for esports, and the media attention was a chance to boost its reputation in China, where it had been struggling for legitimacy. "Our members all performed well at school before becoming professional esports players," IG manager Su Xiaoluo told NewsChina in the club's office in downtown Shanghai.  
However, Baolan, now well-known for playing esport for IG, was more candid. He told our reporter he was "last in his class," a statement that perhaps rings more true of his beginnings and many other players like him in the budding sport.  
Esports, also known as electronic sports, usually involve organized, multiplayer video game competitions, particularly between professional players. While the sport has gone mainstream in many parts of the world, esports athletes in China continue to face social challenges as gaming carries a stigma at home.  
Winning Backstory
"We hope people understand that esports isn't 'opium,' and we do not want to be left in a marginalized market anymore," Su said during his interview with NewsChina.  
He was quoting Wang Sicong, IG club owner and son of Dalian Wanda Group chairman Wang Jianlin (ranked China's third-richest man according to Forbes). Wang had purchased the esports club Catastrophic Cruel Memory (CCM) for US$6 million and renamed it Invictus Gaming (IG) in 2011. He then doubled the salary of its players, further bringing the domestic esports industry into the spotlight.  
Wang entered the esports industry on the cusp of its domestic boom. Video game shows, which previous regulations had banned from television, began surfacing on platforms online. Tencent became a major promoter of esports, and now Tencent Games is the largest online games community in China. It now organizes most of the major League of Legends (LOL) tournaments.  
Su said that between 2014 and 2017, IG was emulating South Korea's well-established esports industry in areas such as management and providing players with fitness trainers and counseling.  
In 2012, Baolan was a middle school student in Jiangxi Province. He remembers falling asleep during class in the back row. A quiet student, he rarely talked.  
Wang was far from a star player when he first started LOL. It wasn't until he saw a video of South Korean esports athlete Hong "Madlife" Min-gi that he realized the importance of support players. As the name suggests, a support player aids other players on the team with logistics and strategy. Within two weeks, he rose from Platinum to Diamond to the highest rank, King. The system then automatically began matching him against similarly-ranked opponents. Baolan's performances eventually caught the attention of professional esports clubs. A Tianjin-based club was the first to offer him a contract. He immediately took it – without telling his classmates or teachers. "At the time I still felt telling people I was a great gamer was not something to be proud of," Baolan said. "Even now, I don't feel like I have real close friends."  
He only shared the news with his mother. She didn't approve at first, but eventually agreed and joined him on his trip to Tianjin. Wang was 15 years old. Compared with parents of other children his age, Wang's mother was more open-minded about her son's dedication to esports. Su Xiaoluo explained how when trying to recruit new members, he often had to persuade both candidates and their parents. It was often much more difficult to win over parents. "However things are  
changing as incomes for professional esports players are showing significant increases," Su said.  
Wang Liuyi's Tianjin club did not last much longer after he joined. He moved to a couple of other clubs before joining League of Legends Pro League (LPL), the top LOL league in China. He is now a world champion support player.  
However, behind all the victories and fame are tales of hardship in China's early video game industry.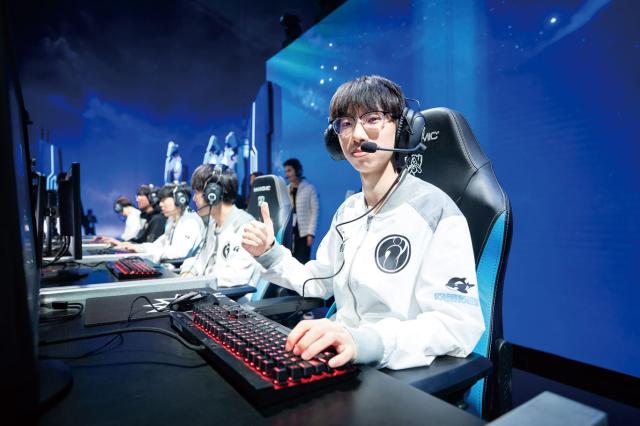 Baolan, a member of Chinese esports club Invictus Gaming (IG), plays during a competition
A college student trains at an esports school in Nanjing, Jiangsu Province
Ups and Downs
"When I got into the video game industry years back, I wasn't lucky enough to join any club or take part in any real competitions like those in the esports industry today," said Cheng Long, a veteran gamer in Wuhan, Hubei Province. The 35-year-old works in a bank by day. By night, he's a video game livestreamer. Two decades ago, Cheng was quite famous in China. He frequented arcades in the 1980s, when video games were seen as a bad influence by both teachers and parents. A few times, school officials caught Cheng playing video games red-handed.  
Most people at the time viewed arcades as dangerous places. The People's Daily published a reader's letter in the 1990s that read, "Since 1993, my son has been visiting arcades. He's become addicted to video games, often skipping school, lying and even stealing… we call on our government to take tough measures to regulate the game industry." 
According to Wang Hongzhe, associate professor at Peking University's School of Journalism and Communication, the general public's negative view of the industry reflected an overall anxiety concerning China's socio-economic transition. "Parents expected the younger generation to improve their social standing through education, so they did not favor recreation over education," Wang told NewsChina.
Even in official discourse, arcades were dirty, dangerous places where illicit deals were made. In the late 1990s, Cheng was famous among his peers for his gaming skills. He became a legend in the domestic game industry. In the rest of society, however, he was not seen as a successful person. Instead, he had "low education and was without a stable income."  
Worse than the stigma among the general public, official perception likened video gaming to drugs and banned it for some time.  
State-run newspaper the Guangming Daily, an official newspaper for the Communist Party of China, called video games "e-heroin" in a report in May 2000. It also quoted an expert in an editorial piece saying: "There is only one end for children who spend all day in arcades: boys become robbers and thieves, and girls become prostitutes."  
In June 2000, the State Council joined six government departments to release Regulations on Game Arcades Management, starting off a nationwide campaign that eventually banned most businesses related to electronic gaming. Within three months, the number of arcades shrank from more than 100,000 to 36,000. Within a year, that number was 10,000. Furthermore, the new regulations also banned the production, sale and import of video game consoles.  
In 2002, a crackdown in Beijing on illegal cybercafés, a major venue for gamers at that time, made the situation even worse.  
The turning point came on November 18, 2003 when the General Administration of Sport of China (GASC) approved esports as the 99th official competitive sport in China. In 2008, GASC reclassified esports as the 78th competitive sport. On July 24, 2018, GASC announced the 2018 National Competition of Esports, listing LOL, StarCraft II and Hearthstone as official events. Apart from cash awards, winners could also be recruited to the national esports team.
Rebuilding Reputations
China's esports market has boomed in recent years. According to an industry report by Tencent-affiliated Penguin Intelligence, China's esports market value reached five billion yuan (US$750m) in 2017 and is expected to hit 8.48 billion yuan (US$1.23b) in 2018. By 2020, the market value is expected to exceed 20 billion yuan (US$3b). In 2017, there were 250 million Chinese gamers, and the figure is projected to rise to 300 million by 2020.  
In a 2008 article titled "Just Like the Qing Empire: Internet Addiction, MMOGs, and Moral Crisis in Contemporary China," authors Alex Golub and Kate Lingley argued that "Chinese reportage expresses a profound sense that Internet addiction is emblematic of socioeconomic change in China and underlying moral tensions. As such, this articulates awareness and concern with fear of a threatened moral order in the face of social change, medicalization of social relationships, the rise of new forms of self-fashioning enabled by new media that are not socially sanctioned, the growth of consumerism as a lifestyle, and the dilemmas of childrearing and family structure in a changing country." 
Despite the stigmatization and the official ban against esports, players not only managed to survive, but even thrive. Since 2004, players have had unprecedented opportunities for professional development and to change their public image.  
Meng "Rocket Boy" Yang was born in the late 1980s in Chengdu, Sichuan Province and started playing when he was 14. He grew up with a single mother, who, unlike most parents at the time, supported his gaming. "I did not expect too much from him then. As long as he didn't get involved with the wrong crowd and I knew where he was, I felt at ease."  
Rocket Boy won a series of local game competitions in late 1990s. In 2001, Meng took a job with a Beijing game company to earn up to 2,000 yuan (US$290) a month in their customer service department. In Beijing, he kept up his esports training at night. That year, he won China's Quake3 championships at the World Cyber Games (WCG). The victory also brought his first professional earnings: 30,000 yuan (US$4,356). WCG, formerly the largest global electronic sport  
tournament, is backed by Samsung and Microsoft. Rocket Boy claimed a WCG victory for China once again the following year. From 2001 to 2002, he took in an impressive 50,000 yuan (US$7,261). 
In 2004, as a member of the Shanghai 5E club, Rocket Boy took part in an esports competition for Doom 3 held in Beijing. The cash award was one million yuan (US$145,000). Within 15 minutes of play, he defeated Johnathan "Fatal1ty" Wendel, an early pioneer of competitive gaming from the US ranked as one of the best professional gamers in the world. He used his earnings to buy two apartments for his mother back in Chengdu. Two months later, Rocket Boy won the global competition CPL2004 Winter Tournament for Doom 3 in Dallas, Texas.  
By 2007, there were 140 million video game players in China. Esports players like Rocket Boy reached superstar status in gaming circles. And thanks to positive media coverage of players winning world tournaments, esports began to earn recognition from the general public.  
The stigma surrounding esports was also partially lifted with the emergence of world-class Chinese players.  
In 2013, the Chinese government relaxed former regulations on the production and sales of game consoles and equipment, indicating a lifting of the ban on the domestic electronic game market.  
While Chinese parents generally still have reservations regarding video games, many have become more accepting of their children's interest in esports. Official statistics in 2017 indicate that within two decades, the number of video game players inside China reached 570 million, over 40.7 percent of the total population in China. Such a significant portion of the population cannot be ignored.  
Since the livestreaming boom in 2014, Cheng Long returned to gaming and launched his own channel, which enables him to earn up to 500,000 yuan (US$72,606) a year. Rocket Boy has retired from professional esports, but now works for Tencent as a game designer. However, he is still revered by young fans, who have since dubbed him an "ancient god" of the gaming world.