China is seeking to reform a vocational education system long plagued by funding shortages, lack of enterprise participation and social stigma
T
hanks to China's new policy aiming to increase enrollment in vocational colleges by one million, many more working people are realizing their dreams of continued education.  Written into the 2019 work report that Chinese Premier Li Keqiang delivered during the two sessions this March, the policy seeks to encourage more high school graduates, veterans, laid-off workers and migrant workers to test for placement in advanced vocational schools.  
China's Ministry of Education (MOE) started a program in May to expand enrollment, while the Ministry of Finance announced that it would allocate over 800 million yuan (US$115.9m) to support the new policy.  
The measures show the government's determination to reform vocational education that, according to experts, has been long overlooked and suffers from a lack of funding, low enterprise participation and poor course design. 
School Stereotypes 
Experts said China's vocational education had been marginalized since the government began expanding university enrollment in 1999.  
"In the 1980s and 1990s, vocational education was still a popular choice for many students who believed that the schools would give them a reliable way to make a living," Chen Xi, a 41-year-old Beijinger who went to a vocational school, told NewsChina. "But as universities expanded enrollment and more enterprises required higher education, vocational schools became a last resort." 
Chen studied thermal dynamics in 1994, a hot major at the time. He quickly found a job with a large power plant. But when he sought to shift industries several years later, Chen said his dazhuan, or junior college degree, held him back. 
"Dazhuan is the highest level of vocational education, so if you want anything higher, shift to general education," Chen said. 
Although Chen attended night school and earned his bachelor's degree, he found that employers looked unfavorably on his vocational school education.  
"That may be because vocational colleges use the same entrance exam, but vocational enrollment is announced after universities. This may have led people to see vocational students as inferior and being overlooked by universities," Chen said. 
Some officials said that university enrollment expansion negatively impacted vocational school enrollment.  
"University education has become increasingly common since enrollment expanded, but students are still educated as elites. This 'elite' mode has distorted the distribution of talent," said a senior official at a provincial education bureau in East China who requested anonymity.  However, societal prejudice is also to blame for low enrollment rates. Chen said that many students would rather retake the national college entrance exam (also known as the gaokao) than accept a spot at a vocational school. Hu Huiping, a professor at Anhui Vocational and Technical College, wrote in an article for the China Youth Daily that most vocational schools do not meet their annual quotas for new students. 
"It is very hard for us to recruit students," Gong Fanghong, president of Wuxi Institute of Technology in Jiangsu Province, told NewsChina.  
He said that the number of high school graduates in Jiangsu Province dropped from 600,000 in 2008 to 300,000 last year. Because slots at universities get priority, vocational enrollment only saw less than half its annual quota. 
Low enrollment led to less financial support. Although the government has emphasized the importance of vocational education, government funding was a fraction of that granted to universities. Official data showed that the government injected 1.2 trillion yuan (US$173.9b) in higher education in 2018, with 17.8 percent going to vocational schools. Although the government gave more financial support to select vocational schools, they received far less funding than universities.  
This underfunding is plain to see from class sizes. "The student to teacher ratio in Chinese vocational schools gets as high as 100 to 1, while in good universities it's only 20 to 1," Gong told NewsChina.  
"Vocational high schools are severely malnourished and vocational colleges are in a state of sub health," the anonymous official told NewsChina.  
"Different from general education, vocational education requires on-the-job training, which costs money. China's vocational education is as undeveloped as the Chinese economy in the 1980s and 1990s," he said.  
In the document on reforming vocational education approved by the State Council this February, the government proposed holding separate vocational school and university entrance exams, to lower and diversify the requirements for applicants and give vocational students more opportunities to further their studies and receive advanced degrees without shifting to general education.  
"Vocational education and general education are different but should have the same importance," the document read.  
Positioned for Success
Industry observers noticed a dilemma in the Chinese labor market: while a growing number of university graduates couldn't find jobs out of school, the talent gap for blue-collar technicians kept widening.  
Experts interviewed by NewsChina said this was not only because of reduced vocational school enrollment but also the disconnect between vocational schools and enterprises – a key component to job placement.  
This problem caught attention online recently when accounting students at Bohai Polytechnic Vocational College in Hebei Province were required to work at a local amusement park to fulfill an internship requirement.  
According to reports, the students dressed up as ghosts in a haunted house. The school told media that it was part of their regular job rotation for students.  
Many netizens said this is not an isolated case, claiming that vocational schools often struggle to find suitable businesses for internship placement. It is not uncommon for students to work internships that are nothing more than part-time jobs unrelated to their majors, such as handing out leaflets and making sales calls.  
Enterprises complain that schools leave students ill-prepared for the workplace. "Unless there is a huge technological breakthrough, the curriculum in some vocational schools remains unchanged for decades," a human resources manager at a Suzhou-based enterprise who requested anonymity told NewsChina.  
Even students who have specific training in certain fields still need three to six months of off-the-job training. "It's a headache for any enterprise to have employees who are producing nothing for half a year," said the human resources manager.  
Tian Zhilei, a deputy researcher at the China Institute for Educational Finance Research, Peking University, echoed this statement, telling NewsChina that many small- and medium-sized enterprises are reluctant to partner with vocational schools, citing reasons such as high equipment and management costs, limited benefits and the threat of trained interns leaving for better-paying jobs.  
To address these issues, the latest reforms require vocational school teachers to have work experience in their related industry and encourage enterprise personnel to work as part-time teachers at vocational schools.  
Also, the government is planning to set up an authentication system for enterprises taking part in vocational education that would offer incentives such as preferential loans, taxation and land allocation.  
Market Demand
For experts, the quality of vocational education remains a major concern. "The majors and courses [in vocational schools] are very important. The one million increase in enrollment creates a kind of strategic talent reserve. We don't expect them to end up working as couriers," Lu Xin, former deputy education minister and the director of the Chinese Society of Vocational and Technical Education, said at a forum on the transition of vocational schools in the AI era held by Shenzhen Polytechnic on July 5. 
His words echoed concerns among attendees that AI technologies would negatively impact the demand for vocational school graduates. "Innovations involving AI will be a big challenge for vocational schools, but it will be also a good opportunity. The schools that transition the earliest and best will lead the development of vocational education," Chen Qiuming, Party secretary at Shenzhen Polytechnic, told NewsChina.  
Chen said his school offers an array of courses in advanced technologies such as AI, big data and cloud computing. He emphasized that they did not aim to cover the whole industrial chain, but several links of the chain based on market demand and even specific demands from targeted enterprises. For example, their AI department focused on technical services and maintenance. 
"Vocational schools won't get anywhere if they try to mimic general education. Vocational schools should provide targeted training and distinguish themselves with specialized courses," he said.  
Lacking specialization was a big problem of vocational schools, according to Gong Fanghong. She told NewsChina that many schools, facing pressure from low enrollment, blindly followed other schools by offering popular courses with hastily created programs. This only reinforced negative stereotypes about vocational schools. 
But there are schools making tantalizing changes. Jianghan Art Vocational College (JAVC) in Qianjiang, Hubei Province grabbed attention this year with its course in crayfish cooking.  
Qianjiang is a major producer of the crustacean, a delicacy enjoyed nationwide, making the school's crayfish majors a popular hire this summer among restaurateurs offering monthly wages from 6,000-12,000 yuan (US$870-1,739). Although some officials questioned the integrity of the curriculum, the course quickly put the school on the map. 
"Thanks to the crayfish major, JAVC survived and developed... They have very precise market positioning," He Zhen, a professor at the Institute of Vocational and Adult Education, Beijing Normal University, told NewsChina. "Disapproval from some officials shows the gap between government policy and market demand," he added.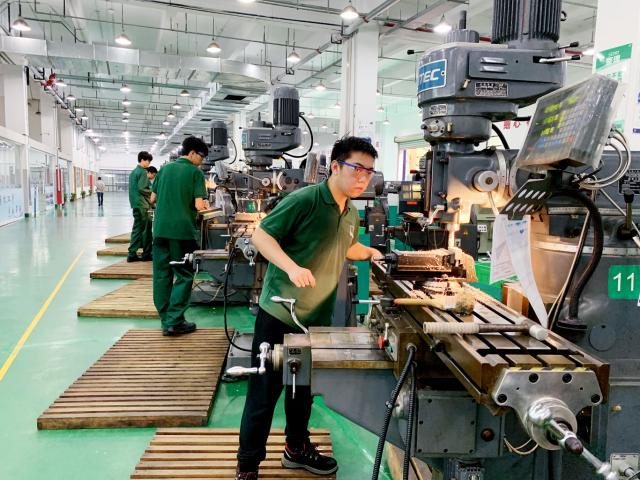 The Sino-German Technical Training Center under Suzhou Higher Vocational and Technical School adopts Germany's dual-mode vocational education
Suzhou Chien-Shiung Institute of Technology believes that the workshop is the best classroom
If the Mode Fits
According to MyCos, a consulting company engaged in higher education data analysis, the three top vocational majors for employment in 2018 were operation and maintenance of high-voltage overhead power lines, electric railway technology, and electric power system automation, showing that high-end industrial technology would be a focus for vocational education.  
"The mode of vocational education primarily relates to [a country's] mode of industrial development," Xu Guoqing, a professor at East China Normal University, told NewsChina. According to Xu, because economic growth in the US depends on technical innovation and finance, its vocational education focuses on career development, whereas Germany, which values high-end manufacturing, focuses on industry demand. 
In 1985, China chose six cities to pilot programs based on Germany's dual-mode vocational education, which trains students in vocational schools and in enterprises. Less than a decade later, China and Germany signed an agreement to cooperate in vocational education. China is now the biggest adopter of dual-mode vocational education.  
However, Tian Zhilei warned that vocational education on the Chinese mainland is increasingly looking like that of Taiwan, where schools place too much importance on theory and degrees.  Experts suggested better management of vocational schools and keeping majors key to China's industrial development – even if they see low enrollment. "It's more like what Singapore is doing," a government official who studied in Singapore told NewsChina, also requesting anonymity. "Singapore should have the economic conditions to send everyone to college, but if they did, there wouldn't be anyone to fill fundamental positions, which would create a structural shortage," he said.  
Xu Guoqing agreed. "It's wise for a populous nation like China to define high-end manufacturing as a pillar industry, but such positioning relies heavily on vocational education," he said.
 "It's urgent for us to strengthen the guidance and planning of courses in vocational schools, or the mismatch between vocational education and industry will decrease our competitiveness in manufacturing," he added.